Main content starts here, tab to start navigating
Madura Chaudhari
The Chai Bar
Chai cravings spiked at 10am and 3pm every day not just for Madura Chaudhari, but also her Indian co-workers at Comcast in Philadelphia. After deeming chai at nearby coffee shops and restaurants to be soulless, Chaudhari began making her own Classic Masala and selling it at farmers markets. During the pandemic, she launched The Chai Bar with sustainably-sourced tea blends.
The brilliant Philly writer-restaurateur Kiki Aranita of Poi Dog fame first told me about The Chai Bar, explaining that the Mangalyam chai was different than any other she'd ever tried. For Giving Broadly, she shares her story of journey from loving Starbucks' chai to learning about the real deal through her college roommate and Madura. She also provides her sumptuous recipe for Classic Chai Masala Butter Mochi.
Floral, Traditional Chai
These chai blends are like a scented confetti with strands of marigold, slips of rose, bits of lavender; they brew into a delicate and distinctive teas.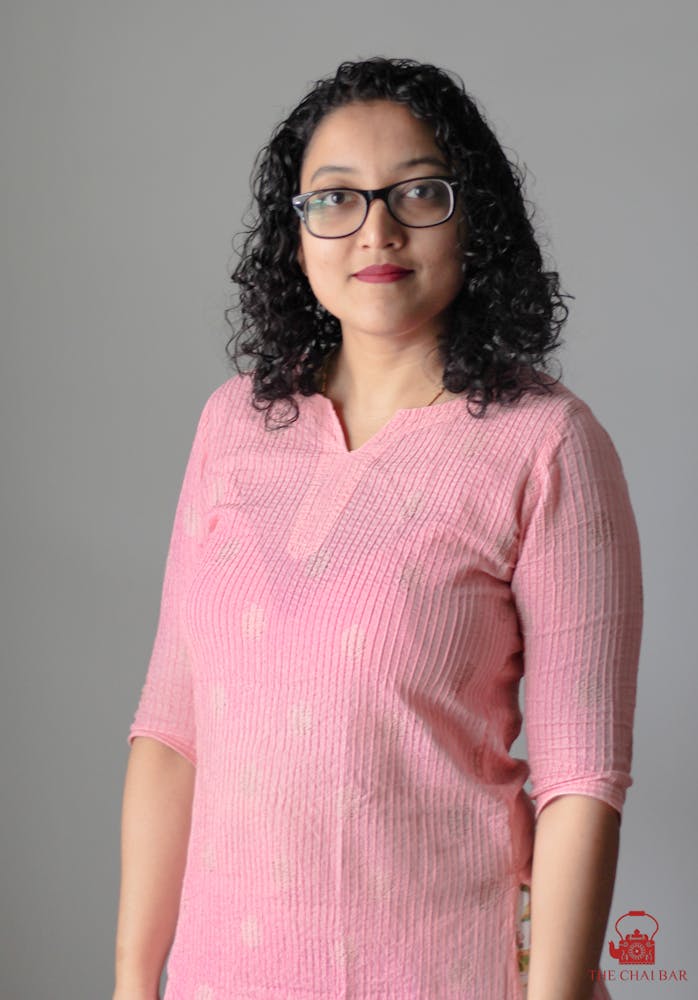 A Conversation With...
Madura Chaudhari
When did you first come to the US?
Born and brought up in a small city in Konkan, on the west coast of India, I moved to Mumbai for undergrad in Math, and went on to do a Masters in International Business followed by an MS in Financial Engineering (MSFE) at Temple University in 2014. That was the first time I ever stepped out of India and that was all by myself at the age of 23.
When did you come up with the idea for The Chai Bar?
After I graduated, I took a job as a Data Analyst at Comcast in Philadelphia. My Indian coworkers and I would crave chai at 10 am and 3pm, but were never able to find a good cup that would satisfy our soul. We tried almost all the coffee shops in Center City, only to be disappointed. Even Indian restaurants served chai just for the sake of it without putting any craft into the process. That was when I realized that Indian or not, people loved chai but they didn't all know the real chai culture and tradition and the warm Indian hospitality. I wanted to preserve it, share and spread the love for chai just the way I grew up drinking.
When did you launch The Chai Bar?
I started doing farmers market in fall 2017 with Classic Masala chai. I slowly added more varieties of chai that I had learned throughout my life in India. I launched the tea blends like Astrakadir (black tea, rose, cardamom), Mangalyam (black tea, marigold, lavender), Sanyukta Bharatam (black tea, classic masala) online in September 2020 so people can make chai at home.
Where do you source the tea?
We source our black tea leaves from a woman-owned farm in Assam and the green tea leaves are sourced from the foothills of Himalayas. The blends are done by hand in Philadelphia.
Did you ever consider giving up?
I haven't considered giving up but there were tough times when close family and friends suggested I give up and take a part-time job. After my husband, Alejandro Sotolongo, and I had a baby, it was very hard to overcome the financial shortage because we had a little one who made a big hole in our pockets.
The first year after our son, Sid, was born was incredibly difficult. It was 2019 and he was constantly sick. We made trips to the hospital almost every single month. I struggled to concentrate and couldn't do many events; I was physically, mentally and emotionally exhausted. My brother would always say: "Don't give up because if you do then you will have to start from zero again." It was important to me that my parents, brother and husband babied me and encouraged me to keep going.
Who is your angel and why?
Sonali, the wife of a close family friend, is my angel. There were times growing up when my parents were very conservative and restrictive and didn't allow me to thrive as an ambitious and, at times, iconoclastic young woman. My parents have come a long way but back then it was very difficult. Sonali encouraged me to be outspoken and pursue things that interested me while gently pointing out where I was wrong and needed to improve. She and her husband were there for me at a critical point in my life and their support steered me on the course I'm on now. I'm grateful they are in my life.
What was your first entrepreneurial endeavor?
My hometown Chiplun didn't have anywhere to buy scented candles, so from seventh to tenth grade, I made candles with relaxing aromas from paraffin and palm wax. My family, friends and neighbors were kind enough to buy some.
Last Word
Our partner tea farms are special because they do so much more than pay fair wages: the farms provide educational scholarships for tea workers' children and eco-homes to vulnerable families along with a set of clothes each year. They also have a waste management system and a small hospital. We are their proud partner in positively affecting the world through chai.
Rethinking Chai
By Kiki Aranita
The Mangalyum catches me off guard. A delicate cascade of flower petals descends into my cup the first time I prepare it. Madura Chaudhari's marigold and lavender green chai blend is colorful and visually arresting. I had never tasted anything quite like its subtle floral notes, herbaceous lavender and cinnamon, simmering together in a cup of chai.
I sheepishly poll a dozen of my non-Indian friends who grew up in Asia and America: how did chai first enter your consciousness? We compare notes; "Chai Tea Lattes" from Starbucks in Singapore, Starbucks Southlake in Texas, Starbucks outside of Philadelphia, Starbucks in Hong Kong. When did you first taste it? High school. College. Twenty years ago. I ordered chai tea lattes with abandon as a teenager in Hong Kong, ignorant of its origins as India's famous masala chai. A few years later my college roommate, Chandani, brought me home to Bayonne, New Jersey, where her mother made us large, milky cups of masala chai and forced me to understand that the syrupy concoction I believed to be chai was a frothy lie.
Madura schools me further. "In all of my blends, I have taken inspiration from my upbringing in India. The blend that you're drinking, the Mangalyum, which means 'pure and auspicious,' takes inspiration from my wedding, which had so many decorations–marigolds and lavender. [I also make] a classic masala chai called Sanyukta Bharatam, which [signifies] a united India since wherever you go, masala tastes similar.
One afternoon, I introduce Madura to Chandani and we discuss chai. I ask Chandani, who was eight when she first made chai, "What goes into the chai–my first understanding of real chai–that your mom taught you?"
"We start with black tea from the supermarket then we add ginger, mint leaves, a masala blend that she makes herself and milk. My mom uses whole milk but lately I've been using oat milk. I don't know what my aunts in Gujarat would add but the differences are how different women brew it. Some folks like it darker and some lighter, with more or less milk and sugar. In India the materials are different but not the process. Here the milk is fattier, so the chai is richer."
Madura, who grew up in Konkan, on India's west coast, moved to Philadelphia in 2014 and is confounded by Starbucks chai. "I think people just don't know how to brew chai. Or know what real chai is. Going to coffee shops when I was working at Comcast, where I was a data analyst, there were corn syrups or powdery chai. The whole essence of chai was lost. This was not chai. It was an insult."
Madura started The Chai Bar in 2017, using her co-workers as her focus group. She served cups of chai at the Headhouse Farmers Market, using the rich, raw milk available there. She has since moved on to selling her chai blends online, a decision prompted by the pandemic. "We have partnered with Chota Tingrai Tea Estate, a women-owned farm in India," she says. "It's the only one like it. Fair wages, best management system. It's important that people come out of a vicious cycle of poverty and that farm is trying to do its fair share."
I ask both women what cup of chai haunts their memories. Madura tells me about a place, "Close to my college in Mumbai. I still crave it and whenever I go back to India, I go for a cup of chai and have a dosa." Chandani says, "It's always my mom's chai. Especially when I was pregnant and gave birth and she came to Chicago and made it for me. That chai feels like home."