Main content starts here, tab to start navigating
Ayako Iino
Yumé Boshi
Grown in California, with deep roots in Japan, Ayako Iino's Yumé Boshi offers sweet and savory examples of traditional preserved plums—vinegar, syrup, jam.
Preserved Japanese Plums
Tinted by red shiso leaves, the syrup and vinegar are fruity-salty secrets to a salad dressings and drinks that raises eyebrows of awe.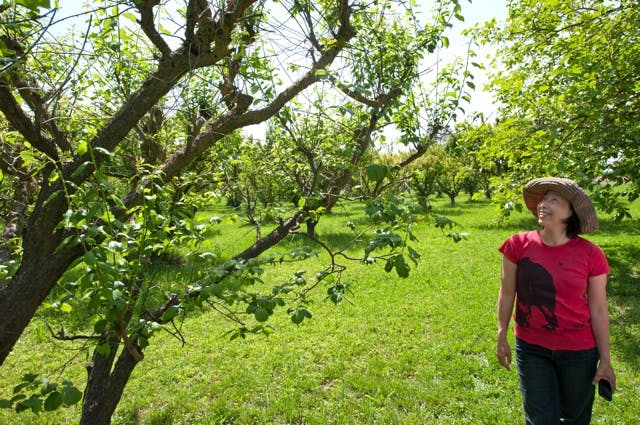 A Conversation With...
Ayako Iino
When did you launch Yumé Boshi?
Umeboshi pickle is something my mother made every year, and I also made every year back in Japan. When I came to the US, I harvested fresh ume plums from a northern California orchard, made them into umeboshi pickle and ume plum jam and started selling to nearby grocery stores in 2014.
How do you create your products?
I sauce organically-grown fresh ume plums from California's Central Valley in late May. Pack them with salt, let them sit until August, then separate the plums from their own juice derived from the salt curing. This salty tangy juice is the Umesu vinegar, the plums are the Umeboshi. The red shiso leaves are added for the color and flavor in July.
Do you remember the first time you tasted umeboshi?
Oh, I don't know, maybe when I was an infant? Umeboshi is very common; you can find it on any home table in Japan.
Last Word
I love traditional ways of preserving the season's bounty and how it creates a beautiful complex flavor. And I like to tell the stories of the way of life when people depended on preservation for their year-round food supply.