Main content starts here, tab to start navigating
Rhandi Altidor
The Better Buggy
Lying on the living room floor, ordering groceries online, Rhandi Altidor missed being able to support Black-owned farms during the pandemic and figured others must feel the same. After testing with pick-up in Atlanta, she and her husband Jonathan launched shipping produce nationwide.
Organic Produce from Black Farmers
The Better Buggy box was beautifully packed with lovely lettuces in their own compostable protective sleeves, earthy black turnips with bright tops, two pairs of squash—one yellow, one green—cuddling at the bottom.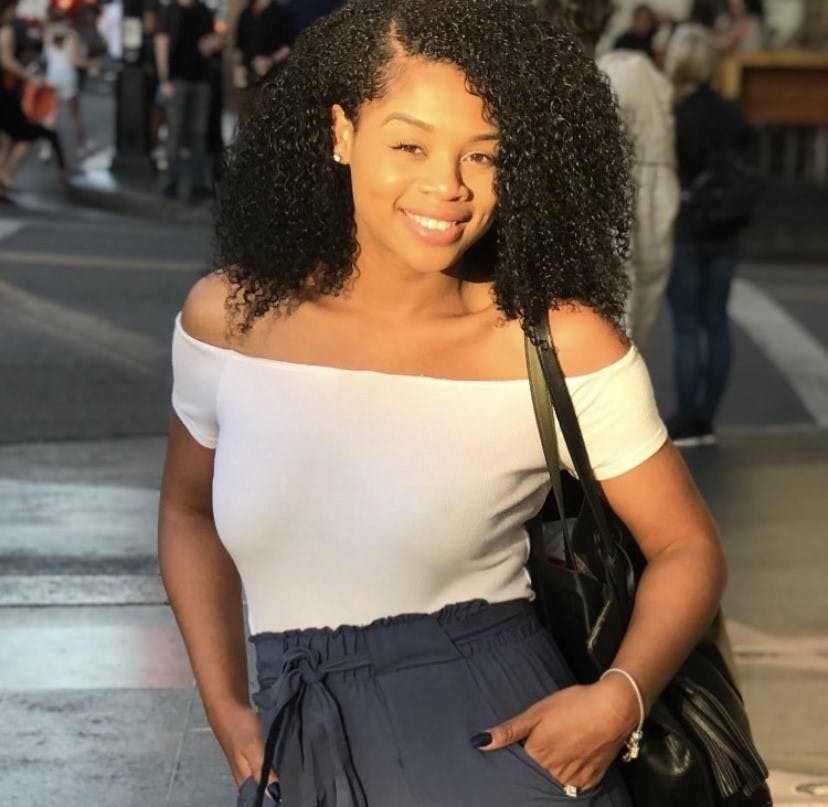 A Conversation With...
Rhandi Altidor
How did you come up with the idea for The Better Buggy?
It was Day 73 of pandemic quarantine and my husband Jonathan and I had just put Baby J, my busy toddler, down for bed.
We were lying on our living room floor, and my husband asked me to put together a list of groceries to order online for delivery in the morning. I looked at him and asked if he missed being able to support local, Black-owned stores and farms.
"Black-owned stores and farms" wasn't an option you could choose on a grocery delivery app. Neither were farmers markets. We realized that if we were having this issue, there were a million others experiencing the same thing. I told him, "Today is the day we start The Better Buggy."
I came up with the name The Better Buggy because we're providing 100 percent organic produce directly from a farm to a customer's door; and because we're providing access for other people to support Black-owned stores and farms, while filling a void in the major grocery delivery platforms.
My husband was concerned about the magnitude of the project, but after we talked about it, he said, "Let's go for it. No one can blame us for trying!"
After a month of doing deliveries, we began to receive phone calls from people across the country, asking us to ship them some of our farm-fresh produce. My husband and I were overwhelmed with gratitude, knowing people in New York and California wanted to support Black-owned farms in Atlanta.
We're now shipping 100 percent organic produce from Black-owned farms to customers all over the US.
And we're super excited that we now have sustainable packaging and cute recyclable tape with our Better Buggy name and logo. After all, we're empowering our Black farmers but we have to protect the environment, too.
Launching The Better Buggy in the middle of a pandemic—with my spouse—was crazy! It required late nights and a lot of compromise…but it was completely worth it.
What was your first entrepreneurial endeavor?
It's actually kind of hilarious! When I was in high school, I wore a pair of bleached and ripped jeans to the homecoming football game. After that, all my classmates wanted them. I would go to school and find 30 people holding pairs of jeans, waiting for me to accept their orders. It was fun until my principal told me it wasn't allowed. Ha! But I have to admit, it gave me the foundation I needed to run a business.
When did you first fall in love with farms?
While I was in college, I was working as a field marketer for a big brand, walking around passing out cans to people in Atlanta, and one of our stops was at a farmers market. The beautiful faces of the farmers asking us to enjoy some of their organic produce stole my heart.
I bought some zucchini and yellow squash and cooked the best stir-fry for my roommates when I got back to my dorm. I knew then that I had to eventually find a way to have a personal connection with farmers and farming.
How did you find your farm partners?
I have a couple of ways that I form relationships with farmers in Atlanta. The primary way has been through Instagram. During the summer, I made a post asking all farmers to reach out if they were interested in having their produce delivered. We received an influx of inquiries. Our team met with some farmers and the word continued to travel about our services. We're proud to be gaining traction and a trusted reputation with farmers.
Another way that I make connections with farmers is through my brother Charles Greenlea, owner of Eco-Paradigm. He leads a group named Gangstas to Growers that creates work opportunities for at-risk and formerly-incarcerated youth in underserved communities. Gangstas to Growers young men travel around the city of Atlanta assisting farmers with harvesting. Many of the farms they support are Black-owned. In doing so, my brother Charles continues to grow his network of Black farmers. It is an easy and valuable connect for The Better Buggy!
Now that we're shipping produce nationwide, we've already started connecting with Black farmers nationwide to partner with in the near future.
Did you ever consider giving up?
The Better Buggy launched in June 2020, but I was ready to give up by August (too soon, I know)! After two months in business we'd had some waves of success, but we were feeling discouraged.
We would spend one or two hours every day on social media, trying to get the word out about The Better Buggy. After all that hard work, we would have about 10 to 15 sales a week.
Eventually, a larger platform heard about us and shared our story. Our business continues to thrive ever since that article. We're forever grateful.
Last Word
Many Black farmers struggle to pay for their land, and I feel a burning desire to connect customers to them. And customers deserve a platform that connects them with 100 percent organic, farm-to-door produce that empowers Black-owned farms.