Main content starts here, tab to start navigating
Amy Zitelman
Soom
I've come up with a couple of nicknames for Soom: "Three Sisters and A Seed," as this business was launched by Amy, Shelby and Jackie Zitelman and "Sesame Seeds: A Love Story" since one of the sister's husbands is a tahini expert. Why play with the name? Because Soom is a tahini brand that has inspired family-like loyalty among its fans.
Silky Tahini
Soom's creamy, runny, almost perfectly emulsified and silky tahini has a pure sesame flavor—clean and simple.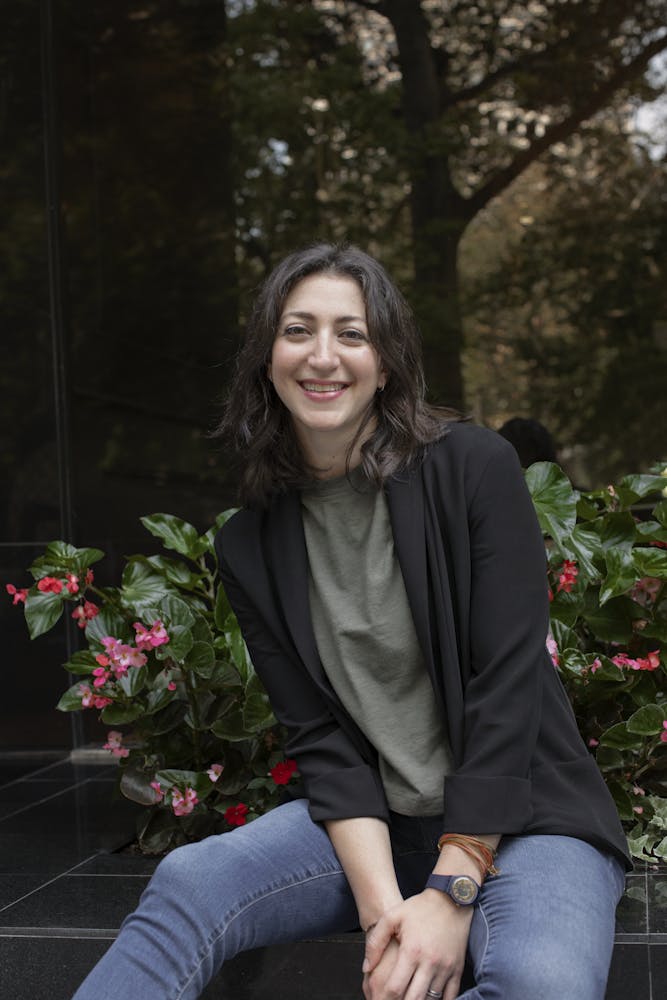 Photo Credit: Jillian Guyette
A Conversation With...
Amy Zitelman
When did you come up with the idea of launching a tahini brand?
The joke is: Shelby had a business degree, Jackie married a tahini expert, and I (Amy) needed a job. Jackie has been living in Israel since 2008 and began dating her now husband, Omri, in 2010. Omri was selling high quality tahini (tehina golmi) around the country, and introduced his wares to Shelby in 2011 as they were getting to know each other. Shelby, entrepreneurially-minded, was left wondering: why isn't good tahini available in the States? A year and a half of market research later, including me living in Israel for a year and a "business" trip to Ethiopia (the first of many), Soom Foods officially launched in May of 2013.
Where do you source and make the tahini?
The seeds are sourced through the public Commodity Exchange in Ethiopia (ECX). Omri and an Ethiopian business partner have a successful sesame trading company. We contracted a manufacturer in Israel to press the seeds into tahini and fill it into the jars we currently sell. The seeds are washed, hulled, roasted and then pressed into tahini. Our chocolate tahini is mixed with a special machine that emulsifies the tahini, powdered pure cane sugar, and cocoa powder with small, metal balls for a super creamy consistency.
Do you remember your first taste of great tahini?
I moved to Israel in July of 2012, about a year after the idea for Soom came about. I must've tasted the tahini we wanted to bring to market beforehand, perhaps Shelby brought some home from Israel. I decided to do a month of Arabic-ulpan (language school) at Haifa University, about 45 minutes south of where Omri lived—a small village in far Northern Israel called Shavei Tzion. Jackie lived in the center of the country at the time and picked me up that first Shabbat, continuing the drive to meet Omri and his family. I remember sitting down to the table in Omri's mom's kitchen, where Omri promptly poured me a spoonful of tahini, accompanied by a glass of hot tea with fresh mint and lemongrass from the garden. I spread the plain tahini onto a piece of fresh bread and smiled.
What was your first entrepreneurial endeavor?
Both of our parents were entrepreneurs, so while we weren't the lemonade-stand or car-wash kind of kids, we were always helping out with their work. One of my first jobs at our dad's office was puncturing files for coil binding, and then spiraling the binding through the holes to keep reports together! I'll never forget how annoying it was to miss a page or two mid-report and have to un-spiral the whole report to redo!
Did you ever consider giving up?
100 percent. Late 2018 and early 2019 was the hardest five months following a recall due to mistakes from our co-manufacturers. Soom products were never compromised, but we had to participate and our name led throughout the press. Some days I thought it might be easier to throw in the towel. We got through it by maintaining our values; most notably, transparency. Showing up, being honest and direct, and persevering for the stake-holders in our chain, especially our employees, is what got me through.
Last word
Our mom, Cindy Zitelman, is my angel. She was so successful as an entrepreneur in the mid-80s that it allowed our father to go on his own entrepreneurial journey. Her commitment to us as children and example she set as a working mother gave us the foundation to be able to do what we are doing now.