Main content starts here, tab to start navigating
Andre Springer
Shaquanda Will Feed You
For artist Andre Springer, hot sauce is the medium to tell stories of Barbadian heritage, childhood in Brooklyn, community, gender identity and more. Born out of a drag performance at Bushwig, no surprise this hot pepper sauce is sassy!
Queen of Caribbean Hot Sauces
Shaquanda's pepper sauces are like portraits that you can taste.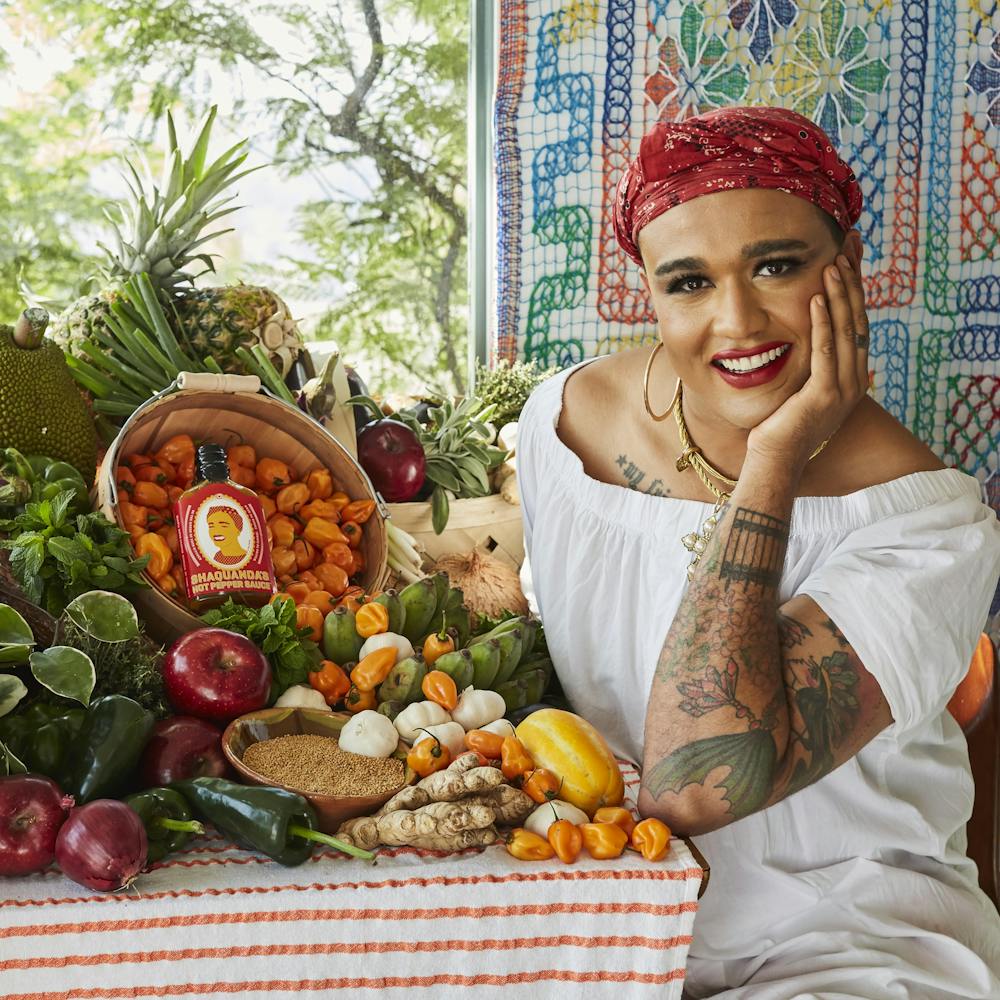 A Conversation With...
Andre Springer
How did your hot sauce career begin?
I started my hot sauce career, unintentionally, around 2012 at an event called Bushwig. This fabulous one day party was all about drag, expression, music, love and laughter. It was there that I released a new performance, by taste, Shaquanda's Hot Pepper Sauce. I didn't perform on stage, but among the crowd, with a shopping cart, a big smile and bottles of hot sauce. Performance is time, eating is performance, and Shaquanda's Hot Pepper Sauce is a portrait of who I am and a portrait you could eat.
I didn't intend to sell the hot sauce because it was part of my performance, it was my art. Every taste tester who joined me in pepper sauce performance would try to buy a bottle. At first I resisted. But my friends, realizing the potential, convinced me to sell it. Not knowing anything about pricing, I charged three dollars for 3 ounce bottles. We paraded through the streets of Bushwick shouting "Hot Sauce". And from there, my journey of being a hot sauce entrepreneur began.
What is your motivation?
As a future ancestor I want to leave a story of laughter, love and persistence.
What was the process of developing your hot sauces?
Each sauce was developed with intention and feeling of Barbadian cooking, onions being the predominant ingredient. Pepper sauce is an integral part of our cuisine and there are a handful of Barbadian pepper sauces that people gravitate toward. The common ingredients are onions, hot peppers, mustard, turmeric and acid.
With my original sauce I wanted to tell my Barbadian heritage within my Brooklyn place of birth, community and where I grew up. My grandmother would always use apple cider vinegar and horseradish, (which made me think of brunch and I love the pugentness of it), Demerara sugar (which is made from the first pressing of sugar cane), and sea salt to remind us of the ocean, tomato paste for depth and citrus as a nod to the tropics.
What inspired the flavors of your other hot sauces?
When thinking of flavors, I thought about gender expression. I thought about the iterations of drag and I thought about how flavors can be interpreted through words and outfits.
Mx Green Sass is my homage to the gender neutral pronoun. This for me is representation that is needed on the grocery shelves for those of us who chose to be neutral or all inclusive in our identities. I thought of the beach, I thought of Far Rockaway, and I thought of myself and my grandmother and the playfulness we had there.
OOOOHMAMI is a play on umami. Once I was catcalled in drag from the distance, "mami! mami!!" and when they got closer, I made a very weird face and they responded, laughing, "ooooooo mami." This was my nighttime drag, and a nod to Josephine Baker. For this sauce, initially I looked for ingredients that began with the letter B. Blueberries, Black garlic, Blackberries, Balsamic vinegar, and then worked my way around these ingredients to create a unique quirky sauce.
Spicier Smoke was a nod to my masculinity or the perception of it. The idea of smokiness signifying this mid-century image of masculinity of a man, or masculine woman, having a sip of a Rye, smoking a cigar or in the haze of smoke. It was also a reminder of the days of hosting parties in the club and doing drag for a few days in a row and being just tired of shaving but still having the desire to put on a shade of lipstick. This is the "three days after" my original sauce, a touch spicier and a bit more fried. lol. Roasted red pepper and smoked paprika, with an extra bump of mustard and turmeric.