Main content starts here, tab to start navigating
Cara Nicoletti
Seemore Meats & Veggies
Cara Nicoletti may be the first butcher who wants us to eat less meat. With her focus on the health of the planet and customers, and her desire to make humane meat accessible to more people, she developed a range of creative sausages (Bubbe's Chicken Soup and La Dolce Beet-A) that are 35 percent fresh vegetables and the rest meat.
Butcher's Veg-Forward Sausage
These veg and meat sausages somewhat miraculously put an entire balanced meal in one neat, juicy package.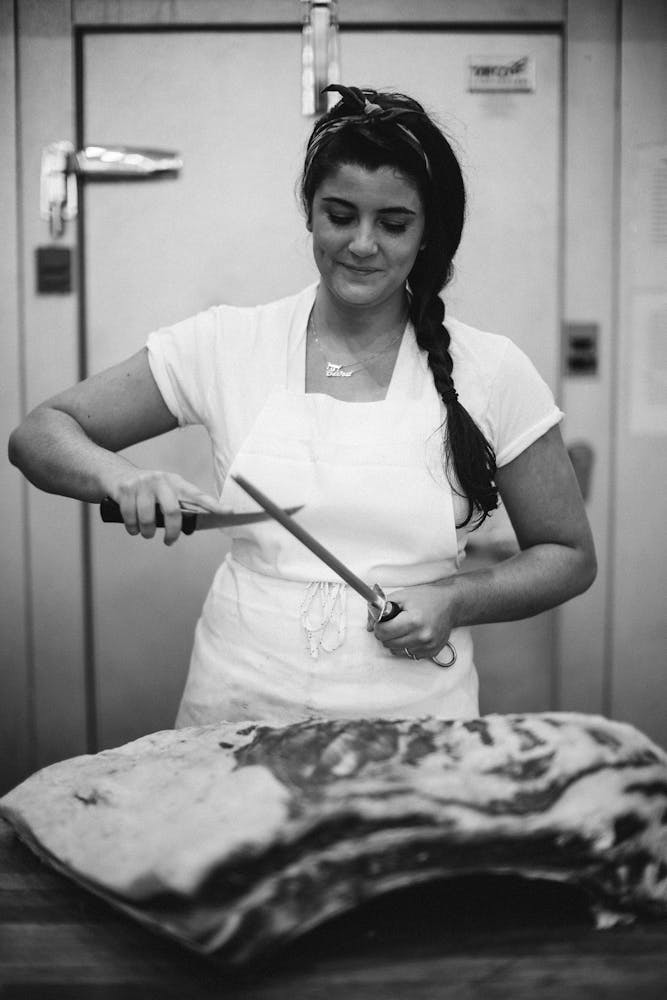 A Conversation With...
Cara Nicoletti
When did you come up with the idea for vegetable-forward meat sausages?
I started making my veggie-filled meat sausages in Brooklyn about ten years ago to get my customers to eat a little less meat. At the time, I was working at butcher shops, butchering whole animals that were pastured and humanely-raised and everything good. Our customers were coming back every single day for more, and that isn't a sustainable way to eat meat. I tried making veggie burgers as an alternative, and it flopped. So I started sneaking vegetables into my sausages to make the good meat stretch further and lessen my customers' dependence on meat, even just a bit.
Sausages are essentially the first sustainability-minded food—they were created to make eating animals viable by using every last scrap and preserving with salt. The idea of sausage being even more sustainable was really exciting to me. The sausages took off faster than I could have anticipated. I teamed up with my now co-founders Ariel Hauptman and Erin Patinkin in late 2018, and launched Seemore Meats & Veggies in February of 2020.
Seemore is named after my grandpa Seymour, a third-generation butcher. Watching him work when I was growing up taught me so much about leading with kindness, specifically in an industry that can be so brutal. We hear a lot about the humane treatment of animals now, but very little about how the people in the meat industry are treated. I feel really lucky to have had such a clear example of how to be a leader in this industry without losing any of my humanity. We tweaked his name to highlight our promise of transparency in everything we do. Our sausages are made with humanely-raised meats and up to 35 percent fresh vegetables.
What is the process for making Seemore Meats + Veggies?
Things have changed quite a bit from the days when I was making thousands of pounds of sausage with only my two hands! I now have a whole team of amazing people all over the country who help to produce Seemore sausages. We source our pork from a network of family farms in Iowa that are humane-certified by the Global Animal Partnership. Our chickens come from a family farm in California that is also humane-certified by GAP. Our vegetable sourcing changes depending on seasonality, but most come from California, and our cheese is from family farms in Wisconsin.
What was the first veggie-forward sausage you ever made?
The first veggie-forward sausage I ever made was chicken gumbo about ten years ago. I was working in a shop and my friend in the produce area gave me a crate of bruised/unsellable bell peppers and onions and I had a bounty of chicken drumsticks that needed to be cooked. I put them together and chicken gumbo sausage was born. Scientifically, it's very difficult to make fresh vegetables bind into meat without the sausage becoming mushy and disgusting. I remember my boss at the time looking at my mountain of diced peppers and onions and telling me I'd never fit that much water into the sausage without it falling apart. When I made it work we were both stunned. I was so so proud.
Did you ever consider giving up?
It took a decade of absolutely back-breaking work to get to this point, and it didn't get any easier once the physical labor was out of my hands; the learning curve just got steeper. So all of that is to say, yes, I think about giving up all the time, but that thought never lasts. I owe most of that to the incredible team of women at Seemore who work tirelessly to make my weird sausage dreams a reality.
What was your first entrepreneurial endeavor?
I wish I had a good story here, but if I'm totally honest, being an entrepreneur isn't something that comes naturally to me. I worked the cash register at my grandpa's butcher shop growing up and I dreamt about being a writer or an English teacher. I started Seemore not because of a passion for business, but because of a passion for educating people about more responsible meat-eating.
Last Word
My mission is to make the humane-meat movement accessible to more people. Lessening the amount of meat we eat in the US would give us a chance to catch our breath in terms of demand, which would make the possibility of regenerative farming practices becoming standard more realistic, which would be hugely beneficial environmentally. It's a big dream but I'm not scared of it.