Main content starts here, tab to start navigating
Rachel Simons
Seed + Mill
Three women, introduced through their kids and bonded by a love of food, launched a tahini brand Seed + Mill in Manhattan's Chelsea Market hoping foodies would flock to try tahini soft serve and cardamom halva. And flock they did. With CEO Rachel Simons Seed + Mill has expanded to online and grocery stores.
Artisanal Halva
Seed + Mill's halva is like cotton candy spun from sesame seeds. I love the one studded with pistachios.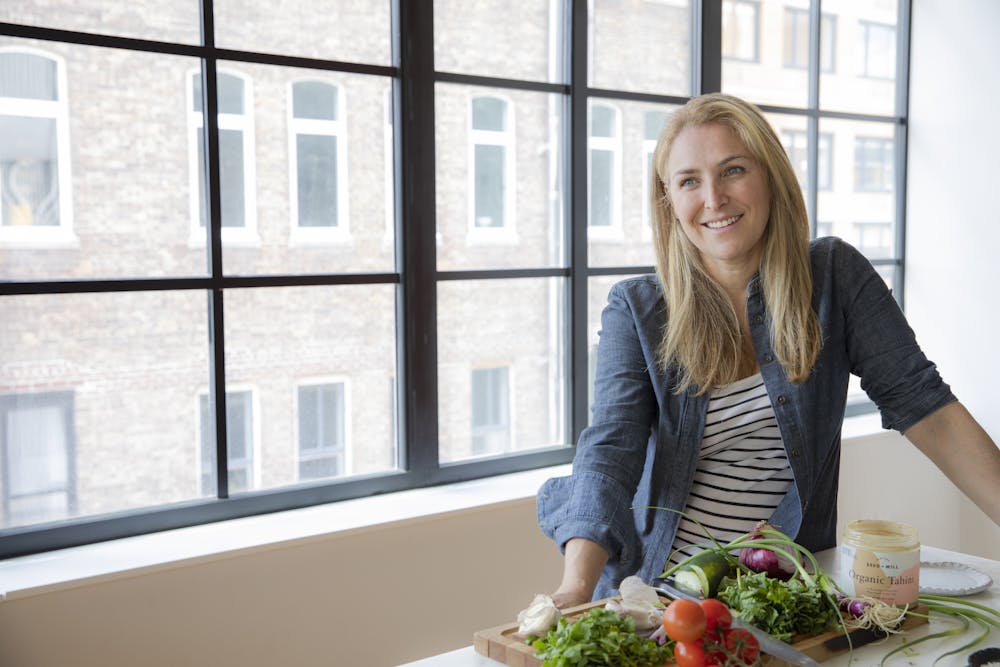 A Conversation With...
Rachel Simons
When was Seed + Mill conceived?
Seed + Mill was founded by three women in January 2016. My co-founders, Lisa Mendelson, Monica Molenaar and I met through our kids. I was completing a Masters of Executive Coaching at NYU, but knew instinctively that this was not my next career move. Lisa identified a gap in the US market for quality tahini and halva and convinced me to follow my foodie heart into launching Seed + Mill with her.

Our idea was to open a little store in New York City's Chelsea Market and see if all the curious foodies who visit were willing to try something different, like cardamom halva or a tahini soft-serve ice-cream with halva sprinkles, which to our knowledge had never been tried in the US!
Where do you source and create the product?
We create our products in Israel from organic Ethiopian sesame seeds which are known for their sweetness. The seeds are first soaked in a lightly salted water bath and then roasted, to give the seeds a flavor boost. We then grind the seeds to produce a creamy sesame paste. Our other main product is halva, which is made by combining the freshest tahini with a piping hot sugar syrup. We gently hand stir every batch until the ingredients are well combined, forming a delicate, flaky, melt-in-your-mouth texture that makes halva so unique! It's like eating a healthier, more sophisticated version of freshly-made cotton candy!
When was the first time you remember tasting tahini?
I honestly hated tahini before starting Seed + Mill and always avoided it! Growing up in Australia, there were only a few places that sold tahini and usually it was a bitter, grey and watery sauce that was thrown over a falafel sandwich at a Middle Eastern deli. Then, as a young adult, I remember trying tahini again after Yotam Ottolenghi published his first cookbook, Plenty (which is still one of my favorite cookbooks). Yotam uses tahini in every other recipe and I realized tahini was not just for falafel sandwiches! It could be added to brownies or cookies or used to make a Green Goddess salad dressing that was bright and fresh but had a depth of flavor.
Did you ever consider giving up?
Oh my goodness, YES! On a superficial level, I must have considered giving up a hundred times! A friend of mine, Gordon Crane, a retired, highly successful food entrepreneur, gave me some helpful advice. He told me that during the course of his career he climbed many mountains and sat in many valleys. He reminded me to pause and enjoy the intoxicating view at the top of the mountain, but to never get too familiar with it because, inevitably, I would descend into a deep valley. He also told me to remember that I was not going to be in that valley forever. I would eventually start climbing up the next mountain in the range. I have (gratefully and somewhat joyfully) surrendered to this entrepreneurial experience—rather than trying to fight or fear it!
What was your first entrepreneurial endeavor?
As a 10 year old, I used to sleep at my best friend Marni's house every weekend. We would stay up late illustrating hundreds of homemade postcards and then walk the Sydney streets every Sunday morning selling them to the neighbors for 10 cents a card! The cards were awful and I am sure our neighbors threw them straight out :) But, I can still remember that feeling of pride and achievement having created something, then bravely walking up strangers' driveways, knocking on their doors and selling our little hearts out!
Who inspires you?
My heart immediately turns to my late grandfather, Otto Roubicek, who remains an important influence on my life and values. He was a Czech Holocaust survivor who moved to Zimbabwe in 1945 and started a successful footwear business that he continued to actively run until the day he died at age 88. I have always admired his courage and resilience to begin a business in a new country, speaking a new language and integrating into a wildly different culture and physical environment after the trauma of having lost his entire family during WW2. Most importantly, he absolutely LOVED food, just like his granddaughter! It's also fun that his name is the same as the first four letters of my culinary hero, Ottolenghi.
Last Word
I love the fact that 'halva' means sweet in Arabic and has been eaten for thousands of years around the world. Having lived and travelled a lot (I have now lived in 5 countries and travelled to over 50 others!), I love discovering new foods or experiencing another culture through their culinary traditions. At our store in Chelsea Market, at every trade show or in-store demo, someone always shares a memory of eating halva with a grandparent, or back in their home country or while traveling abroad. These stories are all heart-warming and make me feel great about what I do every day.