Main content starts here, tab to start navigating
Molly Fienning
Red Clay Hot Sauce
It makes sense that this hot sauce isn't the blow-the-roof-off-your-mouth type, but instead, more like fresh greens with heat because it was created by a Charleston chef to go on delicate foods like oysters. I think that's probably why Molly Fienning first fell for it, then invested, then became CEO! My favorite is the Verde, which is serrano, fennel, onion and cilantro. At my house, we use it throughout the day on eggs, mixed into a guac at lunch and with steak at dinner.
Cold-Pressed Hot Sauce
Raw yet refined, the cold-pressed hot sauces from Red Clay have a ton of umami from being aged in Bourbon barrels.
Photo Credit: Maggie Braucher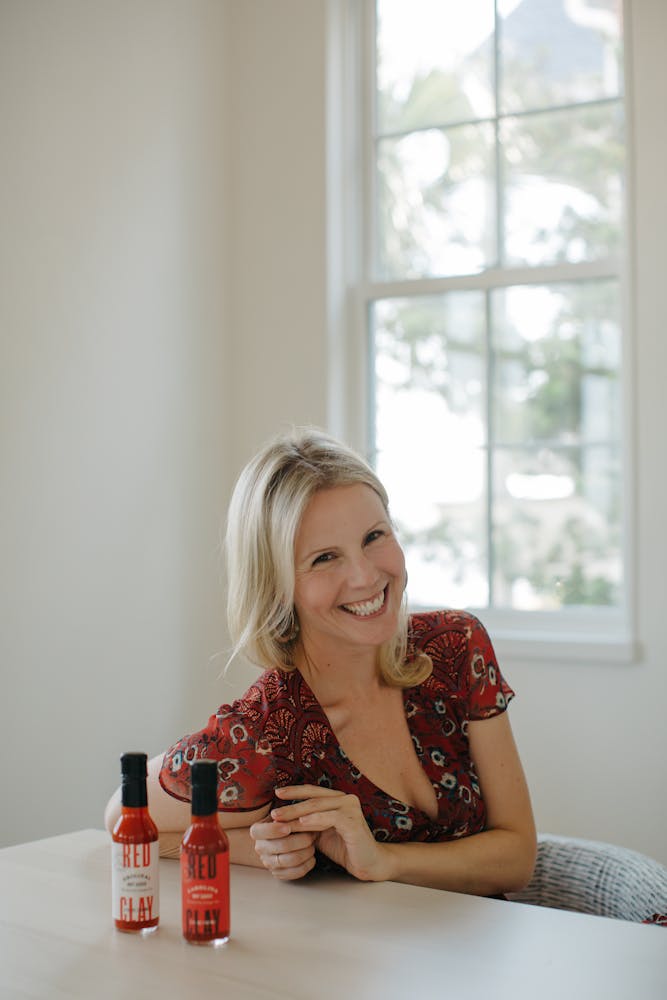 Photo Credit: Lindsay Shorter
A Conversation With...
Molly Fienning
How did Red Clay Hot Sauce get its start?
Red Clay Hot Sauce was born when a passionate Georgia chef met a serial entrepreneur from New York City (me!)
When I was pregnant with my second son, Fox, all I wanted were dirty martinis and oysters—and I couldn't have either! So for our first date post-baby, my husband Ted took me to our favorite oyster bar. The bartender asked if I wanted hot sauce with my oysters, which I declined because (ironically!) I didn't really like hot sauce. He convinced me to try it.
I thought it was the best thing I had ever tasted. This sauce offered a complex balance of flavor notes (sweet, salty, acid, umami, spice)—not just all heat. My husband and I met chef Geoff Rhyne that night and we co-invested to launch Red Clay as a brand a few weeks later. The sauce officially made me a hot sauce convert AND a hot sauce CEO!
How do you make Red Clay Hot Sauce?
We begin with the highest-quality ingredients we can. The peppers are sourced from sustainably-minded farms along the East Coast, as locally as the season allows, and as close to production as possible. Then we cold-press our hot sauces to preserve the flavor and the live cultures. Next we age Red Clay in Bourbon barrels for 6-8 weeks, which adds notes of umami and depth of flavor from the fermentation process.
Photo Credit: Amanda Greeley
What is the biggest challenge that you've encountered?
When Whole Foods Market and The Fresh Market ordered Red Clay, we had to find the right co-manufacturers to scale. We reached out to hot sauce makers all over the nation and every one of them used heat processing (boiling their peppers) to make sauce. We weren't willing to change our cold-pressed technique.
Our Head of Operations inspired me to find the right partner. We started reaching out to fresh pressed juicers and kombucha makers and found a juice factory willing to partner with us on our cold-pressed, fermented processes. We were able to stay true to our company's values AND we didn't have to hand-bottle thousands of bottles of Red Clay! Phew! :)
Tell me about your first entrepreneurial endeavor.
My now-husband and I spent a month in India, where he proposed on a rice boat on the canals of Kerala at the tip of the Southern peninsula. There, we discovered a shop that made the most gorgeous paper products, which we wanted to sell in the US. Everyone at home loved them, but import taxes made the margins too slim to make it worthwhile! It was the first of many businesses my husband and I built together, and it's how I caught the startup bug.