Main content starts here, tab to start navigating
Joan Smith
Rancho Meladuco Date Farm
Inspired by the soft and tender—almost juicy—Medjool dates from mature trees on her family's southern California ranch, CPA-turned-CEO Joan Smith now works with local growers to source exceptional fruit and sell online (Joan has planted her own trees, too; her first crop was eaten by critters!)
Caramelly California Medjool Dates
Rancho Meladuco dates are like Mother Nature's caramel. The dates are plump and ugly, skins yielding to juicy, deep, rich flavor flesh.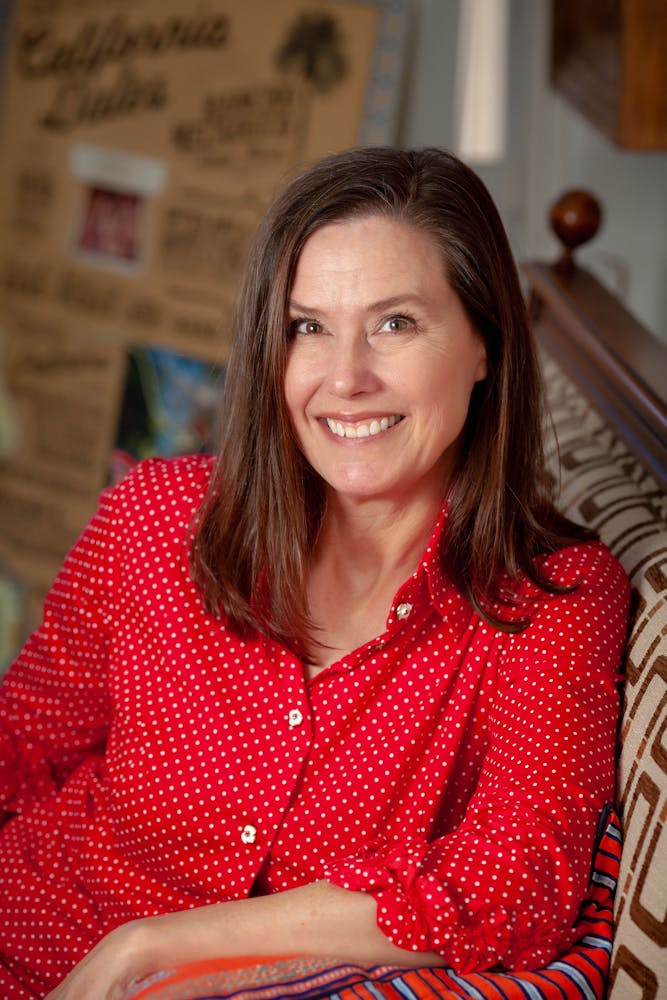 A Conversation With...
Joan Smith
How did you come up with the idea of selling Medjool dates?
I've pursued nearly every random thing I wanted to try from modeling in San Francisco to working with elephants in a zoo. I was a CPA in a regional firm in Bakersfield as an outside auditor until I met my now-husband and relocated to his hometown of Newport Beach, CA. On weekends we would go to a duck hunting club, and eventually, we purchased the oldest hunting club in the area, which became our ranch.
There were mature trees on the property when we arrived that produced a couple hundred pounds of Medjool dates each year. Friends who received a share of our annual crop raved and begged me to sell them more but we had a finite supply.
I decided to start the farm in 2016 and began purchasing date shoots from other growers (the offshoots that grow from the base of younger date palms). We cleared several acres of desert vegetation around our ranch and began planting the shoots. The first of these trees had their first good fruit set this year! Sadly the local wildlife could reach the bagged fruit—and this year's entire crop on these trees was eaten by coyotes and raccoons.
We launched a website in the summer of 2017, so I could take our farm fresh dates directly to consumers anywhere in America.
Where do you source your dates?
Today we work with many different growers to source our fruit. We are very picky about the dates we sell and insist on great-tasting fruit, good moisture and size. We are passionate about elevating the image and status of dates by delivering an exceptional product with care and quality at every step.
Medjool dates grow on date palms and are a very labor-intensive crop. The Palmeros have to work up in each tree an average of 8-9 times per season. In many cases this work is done by harness and ladder. The date flowers must be manually pollinated. The pollen is collected from the flower bunches of male date palms (female palms produce the fruit), and poofed or blown on the flower bunches as they open. Once pollinated, the fruit strands are then thinned (on Medjools) several times. The individual fruit buds are stripped down to about a third and the centers of the bunches are cut out. This is done to reduce the number of developing fruit to a quantity that matches the energy capacity of the palm and encourages the largest fruit with tight skin by reducing the quantity of dates on each bunch and tree and increasing the spacing between the dates. Pretty complicated stuff, and when done well, produces really nice-size fruit.
What was your first entrepreneurial endeavor?
The first time I remember making and selling anything was in Junior High. I drew surfboards and lightning bolts (big in the early 80's) with colored pencil on paper, and then covered the drawing in Elmer's glue, which dried clear and gave the drawings a matte glaze. I'd cut these out and sell them as bookmarks at school.
What have you learned about yourself in the process of launching Rancho Meladuco?
As a technically-oriented, accountant/bean-counter/auditor, I was surprised to discover that I serve the company best when I'm being the visionary and telling and creating our story and mission.
We have masses of wild sunflowers that grow around our ranch in the summer. I decided this past summer it would be a neat idea to harvest the seeds and package and sell them. These wild sunflowers produce seed and feed for birds and other critters and are really pretty. I collected a bag full—and they're still sitting in my garage. Not all my great ideas have legs, but plenty of them sure do.
Did you ever consider giving up?
As much as I hate to admit it, yes. There's great personal sacrifice in running a company. Things come up that are hard and scary. I spent the first year struggling to understand (and this may sound corny) how to stay centered in love and balance my interests with the interests of others when conflicts came up. Even now, I tend to act as if everything is this kumbaya experience and when difficulties or betrayals arise, I get really discouraged and bummed.

What keeps me going is that we have more wins than losses. I see the great things we are accomplishing. The successes and the visions realized sustain me.
Last Word
I've always said I'm doing this so I can have horses. I mean there are lots of other things going on for me in this: building a legacy for my kids, making our ranch a really special place with a special story, contributing to causes we care about like hunger and habitat, experiencing the power of manifesting thoughts and seeing the tangible results of things you commit to. But I love horses. Like LOVE them. I drew horses all the time as a kid. Had every book about horses. Had the plastic toy horses.
My dad passed unexpectedly at 55 and the ranch I grew up on was sold. My brother took the horses and tack. My favorite horse Fred was gifted to family friends who had a house with pastures and other horses. And my connection to horses and ranching was over at the age of 23. I'm 52 now. And I've always wanted it back.
Our company is still young and growing, and we are doing most of the work with the same two people we started with. I'm spread pretty thin and life is hectic (COVID to boot). I'm raising three kids, still do the bookkeeping for my husband's company, manage the ranch, the household, the pets and life, etc. It's a lot. So horses seem really far away still.
But I know this is the Messy Middle, just as Scott Belsky says in his book. I look forward to hitting our cruising altitude with a fully formed team and the space to exhale and really enjoy what we've created. And then I can start shopping for my horse. :)