Main content starts here, tab to start navigating
Emily Elyse Miller
OffLimits
Emily Elyse Miller's cereals are inspired by the extreme emotional cycles of creative people—Dash's coffee and cocoa for revving up and Zombie's vanilla and pandan for slowing down. Yes, it's cereal, but it's also a reminder to feed our moods. Favorite fact: Emily created the first female cereal character!
Cereal to Feed Your Mood
This cereal is double delicious. First the full-flavored crunchy cereal, then the satisfying, sweet flavored milk.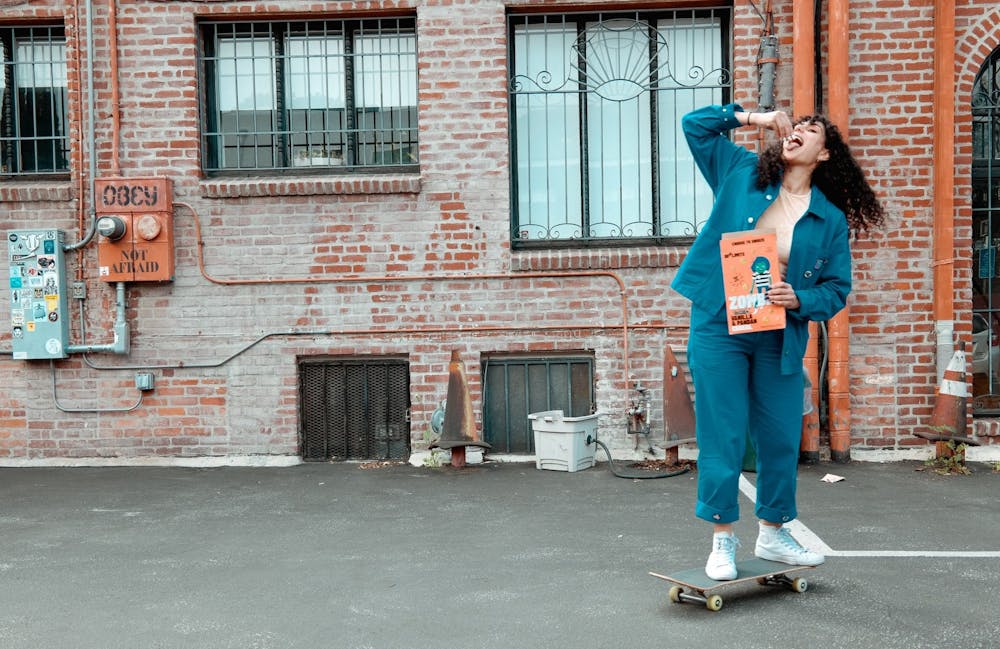 Photo Credit: Kiki Fox
A Conversation With...
Emily Elyse Miller
What inspired the idea for OffLimits?
I launched OffLimits in July 2020 because I wanted to make a healthy cereal that represented modern culture and moods; the idea had been brewing for years.
I'd spent my career talking to people around the world about breakfast—and even wrote a book on breakfast that came out in 2019. Turns out the most universal morning meal is cereal. Why had something I had enjoyed so much as a kid simply vanished from my diet? I realized cereal had gotten boring. What had happened to the toys, the characters, the flavors? It was all pushed aside for "healthy" alternatives and by corporate cost-cutting initiatives.
What was the process of getting the cereals produced?
There's a reason you don't see too many cereal start-ups. It's because there are only a few production facilities that will consider a small-batch run, and the ones that do are often owned by big box brands. It took more than a year to find the right facility and then do tests and produce samples.
What was it like when you first saw your cereals being produced?
Cereal is pressure-heated and extruded through a machine, then coated. The recipes I'd been working on in my kitchen and with a developer were being extruded at a million miles a minute, and they were beautiful. My dream was finally a reality and I'll never forget feeling equal parts excitement and relief.
Did you ever consider giving up?
There hasn't been one single part of starting this business that hasn't been a challenge. Overcoming the trauma of raising money and launching OffLimits in 2020 proves that my team and I can overcome anything else that comes our way.
We pushed our launch multiple times due to COVID-19 and Black Lives Matter, and kept doing what we were already doing: protesting, handing out supplies, and donating our time to make space in the world for more brands like ours, ones that are not afraid to be loud in representing their communities. We might sell cereal, but the name OffLimits is intentionally defiant.
What was your first entrepreneurial endeavor?
I learned my first business lesson was when I was selling "Tropical Punch", my name for a concoction of fresh juices. The recipe varied based on what was in my parents' fridge. I would set up a stand in our driveway; on hot days in Arizona, anything cold was a win. After a successful day, as I was counting my dollars and quarters, my Dad came over to see how I did. He helped me count the money, then started counting out his share. He didn't do any of the work and I couldn't understand why he would get a cut. He said he was taking out the COGS (Cost of Goods, aka all the juice I took from the fridge) and that I could keep the rest.
After that I never forgot the cost of doing business.
Last Word
I developed the cereal flavors based on the extreme emotional cycles of creative people. DASH is made with Intelligentsia coffee and cocoa, and turns the milk to cold brew. This gives you the added jolt needed to make all your dreams come true, but it comes with anxiety and the pressure to succeed. ZOMBIE's flavor is vanilla and pandan with ashwagandha to help chill you out, but being relaxed all the time comes with spurts of depression and loneliness.
It felt empty to create a brand just for the sake of selling cereal. I want to make an emotional connection with people. Let them know that others feel the same way and that they don't have to do anything alone if they don't want to.