Main content starts here, tab to start navigating
Nidhi Jalan
Masala Mama
Nidhi Jalan found her life's mission when she heard a friend at a dinner party say she'd make more Indian food if it weren't so labor-intensive. Starting with a stand at Brooklyn's Smorgasburg, she eventually created four simmer sauces that put Indian flavors on speed dial.
Fast Fragrant Curry
Masala Mama's Indian simmer sauces are a shortcut to dinner nirvana.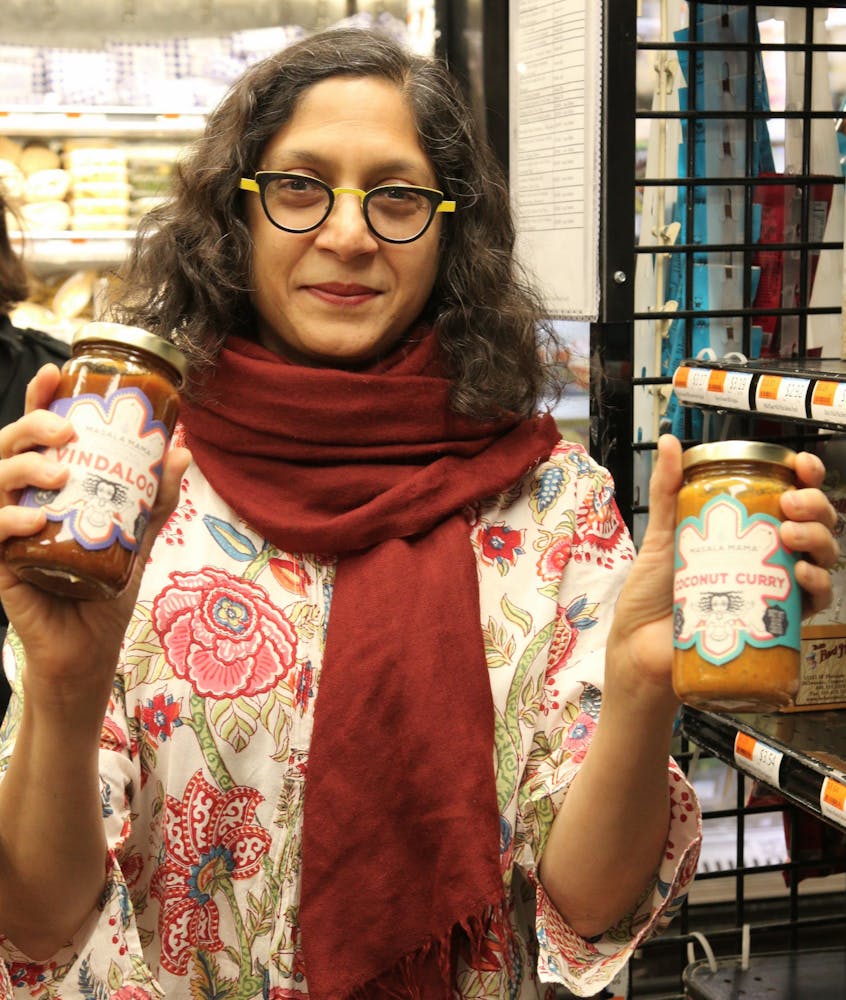 A Conversation With...
Nidhi Jalan
When did you come up with the idea for Masala Mama?
One day at a dinner party in New York, the host happened to mention that she would make Indian food more often if only it wasn't so time-consuming. That's when I had an aha moment! In 2013, I decided that I would create a business making spice blends for Indian food. I began selling Indian-themed Masala Tacos at the Brooklyn outdoor market, Smorgasburg, as a way to promote the blends. I soon realized that people didn't want to cook from scratch with the spices, but they loved the sauces. This led to developing a line of easy-to-use bottled Indian simmer sauces a couple of years later. After another couple of years of refining and improving the recipes, we applied to Whole Foods; they launched us in 2018 as a national brand.
Where do you create the simmer sauces?
Our sauces are made in Canada. We searched high and low for a co-packer who could make our sauces in a traditional manner. Indian food is made in stages, with different ingredients being added each time to achieve different flavors and textures. It is very important to "bhuno" (slow-fry) the spices. Spices are cooked in a skillet, often with onion, ginger and garlic, and stirred constantly to release their aroma and add flavor to the dish. Most co-packers are accustomed to throwing everything in a steam kettle and cooking it all at once, which kills a lot of the subtlety. We found someone in Canada who would indulge us in this two-step process and "bhuno" our spices for us, even though it was more trouble.
What was your first entrepreneurial endeavor?
I was born into a family of entrepreneurs from my great-great-grandfather to my father, brother and nephews. However, women in my family, as in many others in my community, are not traditionally entrepreneurs and instead are encouraged to take up more "feminine" occupations or hobbies such as painting. I fell in love with ceramics at an early age and trained as a ceramic sculptor, and went on to complete my MFA at Hunter College in New York.
So I was not a born entrepreneur and, in fact, I hated the idea of selling anything—so much so that I couldn't even bear to sell my art work when I was a student! But I never doubted that I could be an entrepreneur because I figured the family genes would kick in. And then when inspiration struck, I launched Masala Mama, my first full-fledged business venture.
Is there one unforgettable moment when someone tried one of your sauces?
The star of my sauces is the Tikka Masala. There is a restaurant in Delhi called Moti Mahal that is famous for its Butter Chicken dish (aka Chicken Tikka Masala). After I developed my sauce, I brought a jar to Delhi and I did a side-by-side taste test with my friend who is a die-hard Moti Mahal Butter Chicken fan. She loved my sauce and thought it was as good or better. That's a moment I am not going to forget.
Did you ever consider giving up?
Running a business is so much harder than I anticipated and, like everyone else, I learned by doing and made many mistakes! This year has been particularly challenging because we had so many supply chain issues and co-packer problems due to the pandemic. Right now our challenge is to get the word out and make people aware of our products. We are working on it but it's not easy when you have a minuscule marketing budget.
Last Word
My mission is to introduce people to the subtlety and variety of homestyle Indian food and show that it can be healthy and delicious. I also want to make Indian food accessible to everyone so that no one is intimidated by the thought of making it at home.