Main content starts here, tab to start navigating
Tracey Richardson
Lillie's of Charleston
Having grown up with a limited barbecue sauce pantry—mostly tomato-based—I was really excited when V Spehar expanded my world by introducing me to the South Carolina mustard version, Lillie's of Charleston's "Hab Mussy" (Have Mercy). Founder Tracey Richardson uses her dad Hank Tisdale's recipe and it is great on all kinds of porky bits—ribs, chops, sausage. V is such a super fan, she generously agreed to write an ode to Tracey, which follows our conversation below!
Low Country BBQ Sauce
In this BBQ sauce, the first hit of sweet tangy mustard quickly gives way to a slow burn, hot enough to earn the Gullah name, "Hab Mussy".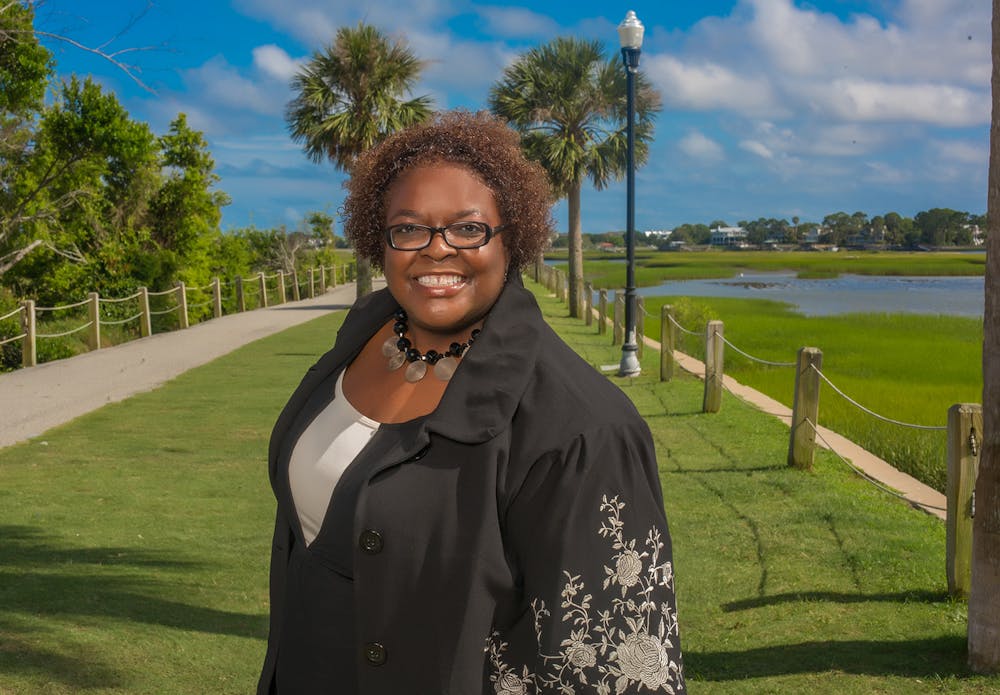 Photo Credit: Jenn Cady
A Conversation With...
Tracey Richardson
When did you come up with the idea for your hot sauce?
Our family loves sauces and condiments; when we were growing up, everyone had their favorites, and our refrigerator and cupboards were loaded with them. As you can imagine, weekend breakfasts at home were meals made in heaven because everyone requested something different!
My sister Kellye (Wicker) and I flirted with the idea of starting the company for several years, and eventually pulled the trigger in 2001 using recipes originated by our father, Hank Tisdale, when he operated a Charleston restaurant called The Rib Shack.
What was your first entrepreneurial endeavor?
My first entrepreneurial endeavor was a card business called Life Image Cards. It started out of necessity. My then-boyfriend and I were getting married and wanted to send out invitations that had an African-American "Jumping the Broom" theme. This was a popular wedding theme during the early 1990s. We couldn't find anything we liked that would be representative of our heritage—so we created our own! We used a home darkroom to create the photos for the invites. Two-hundred-fifty invites and lots of rave reviews later, we embarked on a new life together and a new business venture.
Did you ever consider giving up?
This year has been our most challenging because of COVID-19. Food service made up a huge percentage of our sales. We were able to pivot, designed our now-popular gift boxes, discovered additional avenues for revenue, and boosted sales online as well as with retailers and specialty businesses.
Last Word
We are a traditional Southern family that enjoys entertaining and feeding relatives and friends. Lillie's of Charleston is a natural extension of this. One day we would love to have our "Low Country Loco" hot sauce on all of the shelves and restaurant tables across America. Our motto: may you never feel unwanted, unloved or hungry!
Ode to Lillies
Written by V. Spehar
Lillie's of Charleston offers small batch sauces and spices fortified by the mantra "May You Never Feel Unwanted, Unloved, or Hungry".
You know what Tracey Richardson? May YOU never feel unwanted, unloved, or hungry you blessing of a human.
May you and your sister carry on the legacy of cookouts at Aunt Lillie's, with Daddy standing guard at her side, watching her every move, taking in those recipes and unwritten flicks of the wrist as she built meals fit for kings, served on double thick paper plates.
May your table never run out of napkins, as the juice and liquid gold of your hot mustard sauce runs from the chins and elbows of sticky-fingered kids who greedily grab for piece after piece of chicken, laughing with their cousins, ignoring the old folks' "hissy fit" chatter about politics and the neighbors. Summer memories of the smile on their Aunt's face as she laughs at their messy cheeks and wipes them clean before they run off to their next adventure.
May you feel as LOVED, as you have loved.
May you feel the gentle nudge of everyone who has ever tasted your sauces, all the way back from the hand-labeled mason jar days to today, cheering you on before every meeting or cold call with a grocery store exec who's yet to taste your product, and ignorantly sees you as just another sku to feed.
Ooooh will they be shouting "Hab Mussy" after just one skewer of your chicken kabobs three ways. May they realize the gift they have sitting pretty in aisle nine, lined up proudly against rows and rows of legacy-turned-commodity hot sauces, and the latest in BBQ Bro seasonings packaged in beer cans for maximum masculinity. May every shopper notice immediately the Gullah phrases printed on each bottle, and know that with this purchase they not only will finally understand what it means to SEASON YOUR FOOD, but also to start a conversation, to taste what "finger leekin" means, and to learn to appreciate a heritage rich in flavor.
May you feel WANTED, every time those checks, re-orders, and customer reviews come in.
Most of all, may you never feel HUNGRY. Never feel hungry for community, for investment to grow, for honest folks to work in your kitchens and on factory lines, for accolades and for validation.
May the risk you took in inviting everyone to the cookout, the risk you took in sharing Aunt Lillie and Daddy with the world pay off in spades. The culinary world is a better, more kind and tasty space because you stand in authenticity here. No bending to corporate hacks or trends, no fancy celebrity chef endorsements, just pure low & slow, Gullah goodness. I'm proud to call you my friend, and I'm even more proud to be considered by my city friends the one that "brings that good sauce over" when we're creating our own memories, with our children—wiping their sticky cheeks, and giving thanks to our Aunt Lillie.