Main content starts here, tab to start navigating
The Women of La Cocina
La Cocina
The fifteen-year-old beloved San Francisco food and social justice organization La Cocina works with talented chefs (mostly women, BIPOC and immigrants) to provide the resources necessary to help their businesses thrive. Developed in the kitchen incubator, products like Christine Doerr's NeoCocoa chocolates and Guisell Osorio's Sabores del Sur chocolate-covered alfajores are adored. Luckily, La Cocina makes them available as part of the La Cocina Collection.
Sweet Gifts
A box of goodness from La Cocina includes well-tested, much-loved products from a handful of gifted cooks.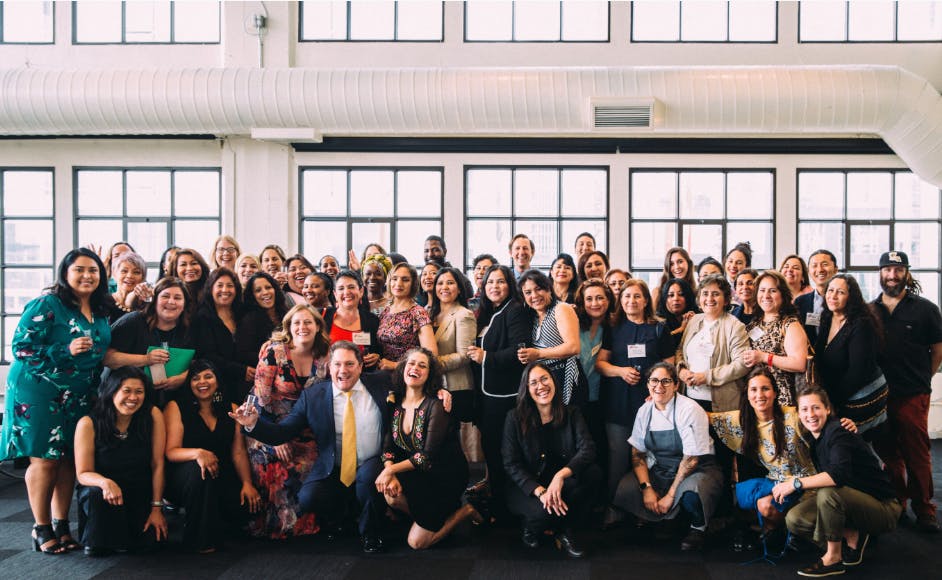 Photo Credit: Erin Ng
A Conversation With...
Leticia Landa
Leticia Landa, Deputy Director of La Cocina, talks to me below about the work, the women, their inspiration and the future.
What is La Cocina's mission?
La Cocina's work is about social and racial justice in the food industry. We work with talented chefs who are mostly women, BIPOC and immigrants, and provide the resources necessary to counter the lack of capital and structural barriers that tend to keep those chefs out of ownership positions in the industry. La Cocina means The Kitchen and is a kitchen—an affordable shared-use commercial kitchen where these chefs can transition from the informal economy (most of the businesses we work with start out of home kitchens) to having a formal business. We provide the industry-specific resources around everything from marketing to permits to accounting and access to sales opportunities as well as connections to capital so that their businesses can grow and thrive.
What have the women of La Cocina taught you about entrepreneurship or life?
I've learned so much from each of them; I've particularly cherished the many lessons I've learned from our entrepreneurs who are mothers. I have a 14-month-old and another baby on the way and I think so often about how they manage to balance the responsibilities of motherhood with business ownership. Dilsa Lugo, the owner of Los Cilantros, told me that part of the reason she started her own business is because she wanted her children to feel proud of her work. I think about that a lot (especially now that we are working from home and doing childcare!) and it helps me find a way to keep balancing it all so that my kids can feel proud of my work, too.
What is the greatest challenge for these women starting businesses?
There are so many challenges, it's hard to pick just one! Before COVID-19, finding a place to create regular sales had become increasingly challenging, as many farmers markets were full and real estate, especially in San Francisco, was very expensive. Many businesses were getting regular sales through catering and the greatest challenge at the moment (with COVID-19) is that all of those sales are gone.
What can buyers expect to find in their La Cocina gift box?
There's always a mix of businesses in each box, and it shifts with product availability.
If your box has chocolate-covered alfajores, those come from Sabores del Sur's Guisell Osorio, who is Chilean, and who will spend hours talking to you about the differences between Chilean and Argentinian food (and why Chilean is best!).
The plantain and yucca chips come from Estrellita's Snacks, which used to be run by Maria del Carmen Flores and is now run by her daughter, Estrella. The business has been selling at the Alemany Farmers Market for the last 15 years, so all of Estrella's kids have grown up in the business as well. It's our first multi-generational business.
If you get NeoCocoa chocolates, Christine Doerr, the owner, does all of her own packaging and graphics! She always has had a passion for design, which influences how beautiful her chocolates and brittles are!
What projects are you working on in the future?
We have recently completed construction on our Municipal Marketplace, which will be a home to seven La Cocina businesses once it's safe/possible to open to the public. We are so proud and excited to have a community space where people can experience our businesses' food.