Main content starts here, tab to start navigating
Gillian Reynolds
Jamnation
What began in 2014 as a Christmas gift to share the delicious intensity of California fruit with family in New York grew into a full-fledged business one year later. Gillian Reynolds turned the fruit like Royal Blenheim apricots and Arctic Star nectarines into chunky jams that allow you to taste and luxuriate in the texture.
Chunky Fruit Jam
With 50 percent more fruit and up to 50 percent less added sugar and no pectin, Jamnation's jams are spoonfuls of summer and sunshine.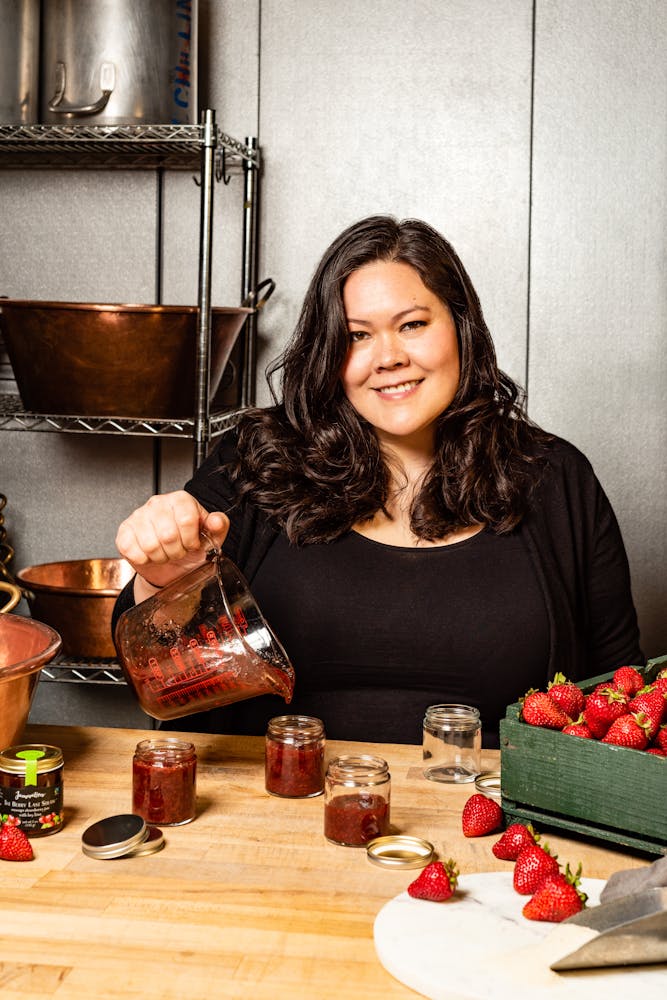 A Conversation With...
Gillian Reynolds
When did you come up with the idea to turn your love of jam into a business?
In 2014, I traveled to Brazil for three weeks on a family trip. Each morning at breakfast I was blown away by the most intensely ripe and delicious mangoes and papayas from small local farms. I have quite a sweet tooth and thought to myself, "If I could keep eating fruit like this, I'd never eat a cupcake again!" (This has since proven untrue, lol!)
When I returned to San Francisco, I started searching for that same flavor intensity in local fruits from small Northern California farms. It was stone fruit season, and I soon discovered Royal Blenheim apricots and Arctic Star nectarines. I was hooked—I found that same delicious intensity that makes you want to close your eyes when you're eating and do a little happy dance.
I wanted to share these special fruits with my family back in New York City, so I decided to make them jam for Christmas. The stakes were high since I come from a family of chefs and foodies: My Chinese great-grandfather was a chef and my Chinese grandparents owned small grocery stores in Phoenix. My brother had just returned from a year at Le Cordon Bleu in Paris and was working at Morimoto. Ho-hum jam wouldn't cut it.
I created two jam flavors each for my father, mother and brother. Each flavor was based on a family memory: poached pears eaten at a tiny French-Moroccan rooftop restaurant in Marrakech with my brother became Midnight in Pearis. For my father, the Anglophile, a Seville orange marmalade infused with cardamom—a nod to the Indian cuisine we enjoyed in London—became A Crockwork Orange. Plum with honeysuckle (Plum and Get It) is an ode to my mother, who would pick fresh honeysuckle flowers and taught us how to drink the fresh, floral nectar. Forty batches and 30 days later, I asked my friends to give me feedback, and they liked them—a lot! We launched in summer 2015, after a year of research.
Where do you source the fruit for the jams?
We create our jams in San Francisco, about 10 minutes from the Ferry Building Market, which makes it easy for our farmers to deliver.
The process starts with selecting the best local fruit varietals. I tried 15 types of peaches and seven types of plums. Sometimes the best fruit to eat out of hand is not the best to make jam. My first goal is to make the best simple jam I can—straight apricot, strawberry, etc. We try different cuts, cooking methods and sources to hone in on the best flavor and texture.
After we've got a basic jam, I start working on a secondary flavor—a botanical or herb that will highlight the fruit but not overpower it. Again, we try different methods for infusing flavors and amounts. It turns out that too much basil in raspberry jam tastes like pesto meets raspberry (yuck!), and it's also quite challenging to get the flavor out of fresh basil leaves! The right amount of elderflower in blueberry jam creates heavenly notes of lychee; too much and the whole concoction tastes like grapes! Balance is key.
We also work hard on the right amount of acid so you have that tang that keeps you coming back for more. Simultaneously, my brother Chris and I brainstorm names for the jams that will bring a smile to people's faces.
When did you fall in love with jam?
When I was about 6 or 7 years old, my parents noticed that I was drawn to nature and the country. I was playing in a magnolia tree with some friends during a particularly wet spring. I got mud on my white leggings and yelled, "Mom, we have to get these to the dry cleaner immediately!" My mother, horrified, turned to my father, and said, "Jim, we have to get her out of the city!"
We spent every summer when I was a kid in Bucks County, PA, in a 200-year old farmhouse. Our neighbors, Hazel and Gay, were an elderly couple who farmed all their own fruit and vegetables. I remember when Hazel shared some of her homemade peach preserves with us. Soft chunks of ripe yellow, almost orange, peaches with a touch of cinnamon—I can still picture it. When I took a knife to spread the preserves, the soft chunks of peach would melt into a spread.
When I decided to make my own jams, I used Hazel's jam as the model. We're all about chunky jams that celebrate the fruit. Some jam makers puree the fruit into butters; we don't. We want you to really taste the fruit and luxuriate in the textures—the jam should be slightly toothsome, in my opinion, and should require a spoon, not a knife.
Did you ever consider giving up?
You need to remember that fruit is a little, breathing thing. You may have heard about the droughts, heat waves and wildfires in Northern California. Tango'ing with Mother Nature and the elements has been challenging. Due to the drought last year, we were able to get only 30 percent of the fruit we needed. Ramping up and down is hard and keeps us on our toes!
We have amazing customers and whenever we do tastings, the "wow" moment keeps me going.
What was your first entrepreneurial endeavor?
When I was about nine years old, my brother and I opened a lemonade stand at my godparents' house in Nantucket. I'm on the shyer side so I made my brother yell out "LEMONADE! FRESH SQUEEZED LEMONADE!" at the top of his lungs! I think we had about four customers over two hours and my godparents and parents bought our lemonade out of pity...lol!
Last Word
We support Fair trade farmers. And we also use as much "cosmetically challenged" fruit as possible. Our apricots, blueberries, strawberries, pears, peaches and Meyer lemons are too "ugly" to be sold in grocery stores. But it's what inside that counts, right? We buy them up and turn them into delicious jam—and help farmers sell fruit that would otherwise go to waste.