Main content starts here, tab to start navigating
Fauzia Abdur-Rahman
Fauzia's Heavenly Delights
I found Fauzia's Jerk Seasoning through Hot Bread Kitchen, an organization that (among many things) helps immigrant women incubate businesses. After 25 years as a beloved NYC street vendor, HBK helped Fauzia Abdur-Rahman develop a plan for her secret sauce, Fauzia's Jerk Seasoning. Just like back home in Jamaica, Fauzia makes sure to balance the heat of the scotch bonnets, with the flavor punch of vinegar, herbs and spices.
Jamaican Jerk Seasoning
Fauzia's Jerk Seasoning brings home the rich, spicy taste of Jamaican beach shack cooking.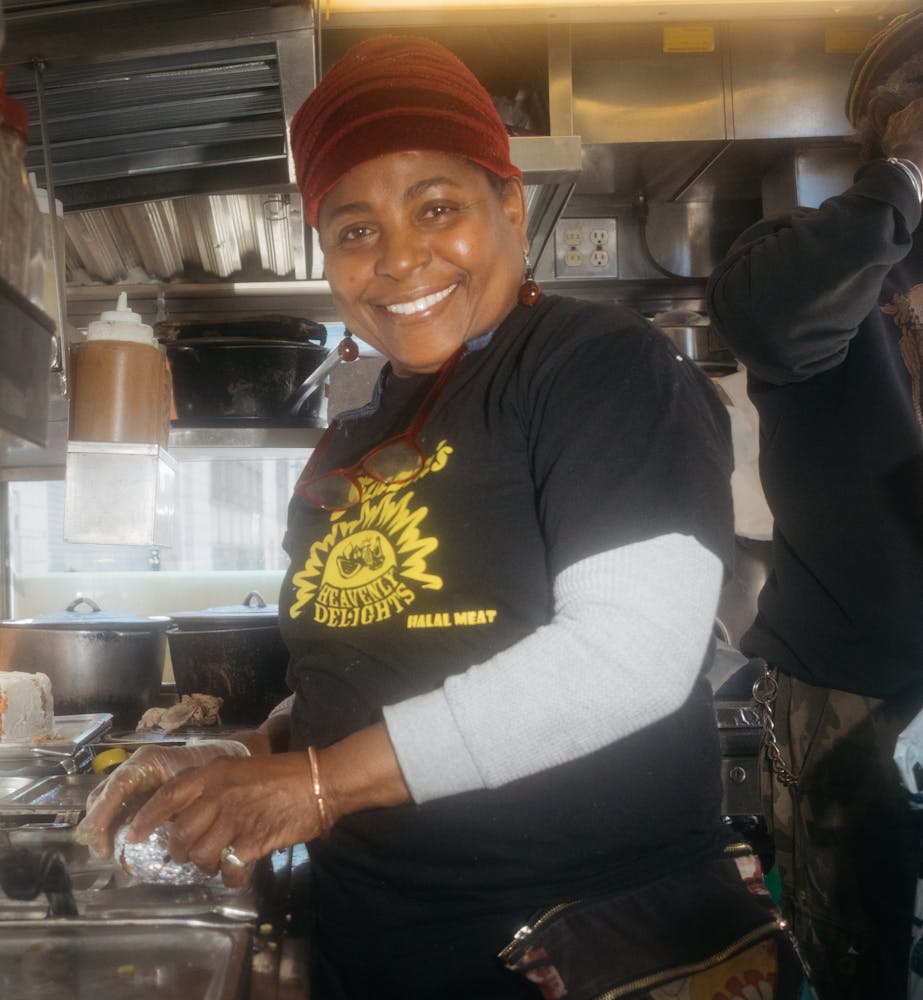 A Conversation With...
Fauzia Abdur-Rahman
What inspired you to become a street vendor in NYC?
Well I was broke. I had just had my second child and I didn't want to go back to my desk job, and therefore didn't have much cash flow. That's when my mom first suggested that I start my own business—I went around the city doing block parties and street festivals. When my father found out, he wasn't too happy about his first child becoming a street vendor. He did give me a piece of advice: "Whatever you do, make sure you do it within the law." I went downtown to get a vending license and had to sleep outside of the building in line so I could be one of the first to get a number. This was in 1994. I had my third child in November and set up my food cart four months later on 161st and Grand Concourse in February 1995, which has been my primary location for the past 25 years. Sometimes people say they have trouble finding us. We tell them, "Just follow the smell of the jerk or curry!"
For our bottled product, Fauzia's Jerk Seasoning, our home has become Hot Bread Kitchen. The community and support that come along with the incubator kitchen have been wonderful.
How do you create your Jamaican jerk seasoning?
I used to go to this wholesale store called Strauss. They sold jerk seasoning by the bucket, which is what I would typically buy. One day I came home with the bucket and my mother asked how much I'd paid for it. I told her and she said it was the last time I was buying that. It cost too much, and it didn't taste nearly as good as the jerk seasoning from back home in Jamaica. So we decided to make our own. Much of the process was trial and error: No measurements involved, just "put a little this and a little that," then taste it, mix it, repeat. We were absolutely determined to capture that same rich, spicy flavor that jerk seasoning was known for back home. When we finally had something we were confident in, we gave it to my brother to try, and he said we had a winner.
What was your first entrepreneurial endeavor?
The very first time I started selling food was in the summer of 1989. My brother told me there was going to be a festival in New Jersey, the Newark African American Day Festival. I went over to his house in New Jersey and made my codfish cake and sorrel. I got to the festival and didn't realize I needed a table to sell my stuff on! So I ran into the 99-cent store and bought a little card table. I borrowed a cooler from a friend and we put some sodas and waters in for sale as well. We sold out of everything!
Did you ever consider giving up?
Nope, never thought about giving up. That never even crossed my mind because I couldn't afford to. Too much was at stake. Vending is definitely not for the faint of heart, but a strong work ethic has carried me through.
What is your wish?
I want my children to step in and take the business to the next level, I don't want them to have to physically work as hard as I have because it truly takes its toll on the body. Focusing on the success of Fauzia's Jerk Seasonings will allow for a little more peace of mind in knowing that my daughter specifically won't feel as though she must go out and face the elements every day and vend in rain, snow, sleet or hail to make a living.
LAST WORD
When I first started, it was WORK. The cart was my only source of income, what I had to do to pay the bills, take care of the children, put them through college, take care of my parents. But it has truly transformed into a love. I look forward to going to the cart every day; to me it's a space of comfort and truly represents freedom--the freedom to be creative with the foods that I cook for my customers, and the freedom that comes along with working for myself and with my family. It's my happy place.
As we continue to build the business both through the vending side and the retail side, seeing my daughter Fauzia Aminah step into the leadership role with the freedom to change and shift the business into what she views as success is such a liberating feeling.