Main content starts here, tab to start navigating
Lesa Walker
D'Lishus
In 2015, while in culinary school, Lesa Walker developed crunchy, gooey, sweet, crispy chips covered in caramel and dark chocolate. Though delicious, she shelved them. Three years and one health scare later, Lesa took some time off and turned naughty into nutritious with a mostly roasted flaxseed crisp and a few flavors including one scrawled with a bit of dark chocolate. D'lishus launched during COVID-19.
Sweet + Seedy Crispy Chips
Eating three D'Lishus crisps has become my COVID-19 post-dinner ritual. A sweet way to end the day.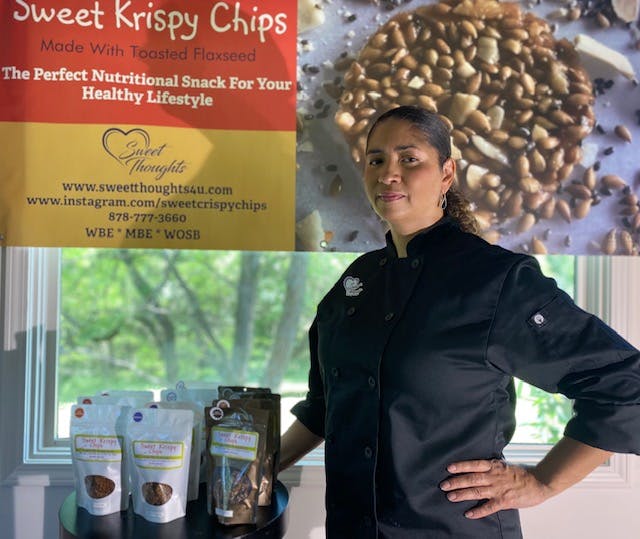 A Conversation With...
Lesa Walker
When did you come up with the idea for D'lishus?
I've always been looking for that perfect sweet bit. You know: The one that makes you feel like you're in heaven. So when I was in culinary school in 2015—Schoolcraft College Pastry & Baking Program—I started playing around with recipes.
I came up with these crunchy, gooey, sweet, crispy chips that were covered in caramel and dark chocolate. Boy, were they good, but super unhealthy. I put that recipe on the shelf to focus on the chocolate business that I ran after my 9-to-5 job. I was working very late hours and tasting chocolate ganaches, purées, caramels and nuts at 2 or 3 a.m.
Suddenly, in 2018, I had a health scare; my cholesterol was off the charts, my blood pressure was rising and I was diagnosed as pre-diabetic. I took time off work to regroup, and that is when I pulled my sinful recipe off the shelf and began turning it into a nutritious snack. It went through several transformations and the final "bite" was created in the midst of COVID-19.
After months of tweaking the recipe, when I knew I got it right, I did the happy dance inside. I was in my kitchen with my granddaughters (ages 9 and 11), who have been baking with me since they were little. They are my taste testers and they are not easy to please.
What was your first entrepreneurial endeavor?
When I was a little girl, my sisters and I used to get the smooth round rocks out of the creek. We would clean them up and then paint cartoon faces on them. We would make an entire family, and then try to sell them.
What is your wish?
I wish we could turn hate into love.
Who is your angel and why?
My husband is my angel because he always has my back. There is nothing he won't do for me. If I were to quit tomorrow, I could cuddle up in his arms and he would kiss me on my forehead and tell me it's going to be OK.
Did you ever consider giving up?
Yes! I have to thank my family and friends for always being there to support me. Without them I would have collapsed a long time ago. I think God made women resilient. I pray a lot, and every time I feel like giving up, God puts an amazing opportunity or person in my path.
Last Word
I have been blessed to be part of many programs that lift you up and help you through. I definitely have to give a shout out to the Tapestry program. Devita Davison and Ederique Goudia of Food Lab Detroit have been amazing. Ederique is my lifeline. I also have to give a big hug to the Great Lakes Women's Business Council, led by Michelle Richards, for their mentoring programs, workshops and 1:1 Corporate Match Programs. Others are MI Let's Eat and Techtown Detroit's Retail Boot Camp.