Main content starts here, tab to start navigating
Jill Gould
Butter Meat Co.
An unexpected visit from a foodie friend showed founder Jill Gould the potential of the under-appreciated beef in her own backyard. Having grazed on lush green pastures and producing organic milk, Jill now sells the meat from these cows online and in her shop in Perry, NY.
Organic Dairy Cow Meat
The beautiful thick cut steak reminds me of the meat I ate growing up—full of flavor, lean, juicy and yet not at all tough.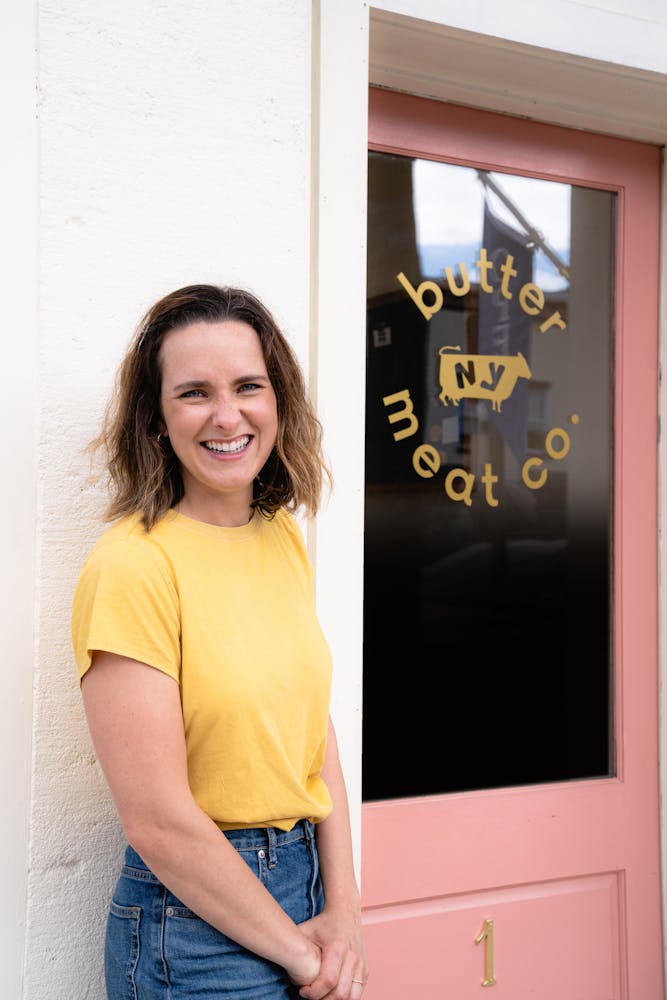 A Conversation With...
Jill Gould
When did you come up with the idea to sell meat from your family's dairy cows?
I remember the first time I was truly wowed by the product in my own backyard.
I'd always been slightly embarrassed about eating the beef that we raised at Har-Go, our family farm. Then in 2019, my best friend's brother, Yiwah, and his now-wife, Miriam, stopped by unexpectedly. Yiwah makes delicious food, and I wanted to be able to cook a meal with them. Of course the refrigerator was empty—but the freezer was full of beef from the dairy farm.
I remember thinking Yiwah would be disappointed, and wishing I had something better to offer up. But immediately, he was excited to cook the beef. It turned into a long beautiful evening of friends and food. It was through conversation with Yiwah and Miriam that the early seeds of Butter Meat Co. were sown.
I'd always wanted my own food business, and I loved the idea that Butter Meat wasn't starting something new. It was taking something our region (Western New York) already did well, and in a sense, upcycling it.
We launched Butter Meat Co. in February 2019. We opened a shop in Perry, NY (just outside Letchworth State Park) in February 2020; the online store launched April 2020 with nationwide shipping.
Did you ever consider giving up?
No, but it is a constant challenge to quiet my own mind and take what comes. On low and unusually stressful days, my husband, sister and best friends keep me going. Sometimes I feel like they believe in the business more than I do. The biggest challenge has been juggling all the roles and growing the business.
What was your first entrepreneurial endeavor?
I really think that Girl Scout Cookies were my first entrepreneurial endeavor. They give you the forms and the product, but the back end is all on you. I always needed to get the 100-plus badge. My mom had me do all the work; she just picked the cookies up. I remember counting the money and all the boxes of cookies in the living room, and figuring out a system to organize the packing and labeling, and coordinating delivery. I tend to enjoy working within a set of existing parameters, so I can see why Girl Scout cookie sales stick out in my memory.
Last word
I often go back to this quote from George Bernard Shaw. I think you could say it is my "why".
"This is the true joy in life, being used for a purpose recognized by yourself as a mighty one. Being a force of nature instead of a feverish, selfish little clod of ailments and grievances complaining that the world will not devote itself to making you happy. I am of the opinion that my life belongs to the whole community and as long as I live, it is my privilege to do for it what I can. I want to be thoroughly used up when I die, for the harder I work, the more I live. I rejoice in life for its own sake. Life is no "brief candle" for me. It is a sort of splendid torch which I have a hold of for the moment, and I want to make it burn as brightly as possible before handing it over to future generations."