Main content starts here, tab to start navigating
Krissy Scommegna
Boonville Barn Collective
As a chef at The Boonville Hotel in California, Krissy Scommegna put the classic Basque Piment d'Espelette on everything. The problem? It wasn't local and it was expensive. As a solution, she figured out how to grow, dry and grind peppers. She and her husband Gideon Burdick have expanded with more options such as a spicy Piment D'Ville, Chile Sea Salt and Comapeño Chile Powder.
Magical Mendocino Dried Peppers
The dried, ground chile peppers from northern California's Boonville Barn Collective kick other paprikas and black peppers to the back of the spice drawer. All the ground peppers, from Piment D'Ville to Comapeño, are robust and fresh.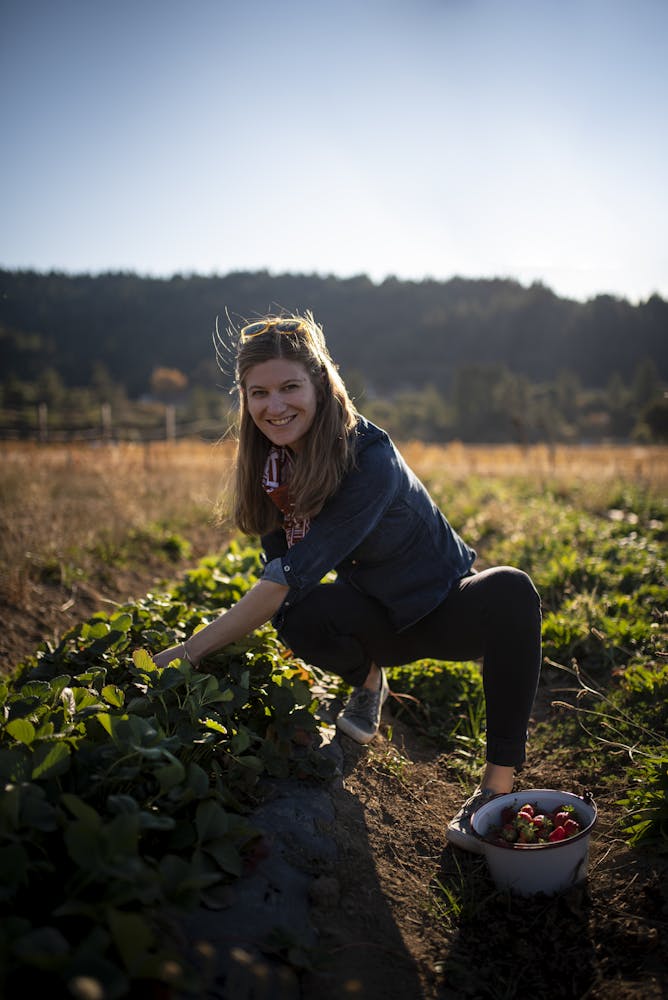 Photo Credit: Gilbert Bages
A Conversation With...
Krissy Scommegna
When did you come up with the idea of making a local version of Piment d'Espelette?
The idea of trying to grow the peppers came up between me, my dad (Roger Scommegna) and chef-proprietor of The Boonville Hotel, Johnny Schmitt. I was working in the hotel's restaurant where we used a lot of Basque Piment d'Espelette. It's expensive to import and we also really valued sourcing ingredients locally.
My family had some land available and our vineyard foreman, Nacho Flores, was up for trying to grow the chiles. We started with about fifty plants in the spring. In the fall, Nacho walked into the kitchen with a bus tub full of fresh chiles and asked "What do we do next?" Thus began the adventure to figure out the best way to grow the most perfect tasting chiles, dry and grind them.
Since we're located in Boonville, CA, we named the pepper Piment d'Ville as an homage to Piment d'Espelette. The first harvest of these chiles was in 2012. In 2019, my then fiance/now husband Gideon Burdick and I decided to start the Boonville Barn Collective. We've now expanded to include the kinds of Mexican chiles and beans that vineyard manager Nacho misses from his childhood in Michoacán, in west-central Mexico. We couldn't do this project without him.
What is your process for making your products?
We grow, dry, and grind all our chiles on our farm in Boonville, CA (about 100 miles north of San Francisco). We're small, but we're completely vertically integrated. We save our seeds each year, plant starts, and raise them in our greenhouse in the winter. We plant the peppers in the ground around June, harvest by hand in the fall, dry the peppers back in the greenhouse and in our dehydrator, save the seeds again, and grind and package the chile powders. There's truly nothing better than the smell of our greenhouse when it is packed with peppers drying. The closest we've come to replicating for folks at home is to roast pepitas with salt and olive oil and when they come out of the oven, and toss them with Piment d'Ville.
When was the first time you remember tasting Piment d'Espelette?
I first tried Piment d'Espelette when I was a chef at The Boonville Hotel. We used Piment d'Espelette on everything we cooked as it added an incredibly balanced flavor, beautiful color and was the perfect finish. I became obsessed with the versatility of the spice and I have a really hard time cooking without it. Piment has become the foundation of my cooking and since cooking is so central to my identity, Piment d'Ville feels essential to my being.
Can you describe some of your signature products?
Piment d'Ville is a red chile powder. The bright red color doesn't necessarily equal spicy and hot! It's actually a super mild flavor that can be used more like black pepper. We've got folks who use it in their apple crisps and apple pies. I think it's great on a slice of peanut butter toast. Making a Piment d'Ville chile cream transforms the flavor of the cream sauce to be almost cheesy.
The Spicy Piment d'Ville is made from the first chiles off the plants in September. They are the spiciest of the peppers by far, but the heat level changes each year based on what kind of weather we have during the growing season. If it's really hot, the peppers are really spicy. If it's cooler, the peppers are more mild.
We started making the Comapeño Salt after Nacho found seeds for the chile and grew a few hundred plants. We had the comapeño powder but no real market for the chiles and in an effort to find an easier application for folks, we mixed it with really great finishing salt from Pacific Flake Salt in Humboldt, CA. As far as I can tell, we are the only folks that cultivate Comapeño chiles in the US.
Did you ever consider giving up?
This year has been rough. We had a lot of plans that have been completely thwarted, but it has given us the time and energy to really invest in getting our chile powders directly to individuals to use in their home kitchens, instead of selling mostly to restaurants. I tend to have a fatalist approach to things, but seeing the chiles holding on and thriving this year has made me more hopeful.
Last word
At first, we started growing these chiles in order to have a locally grown version of a truly special chile powder. While producing delicious chile powders grown that supports our small farm is still the heart of our business, providing good jobs for people in our community, paying them well and creating a product they feel proud of is high up on the list, too.