Main content starts here, tab to start navigating
Lia Heifetz
Barnacle
Lia Heifetz grew up in Juneau, Alaska, foraging and preserving all kinds of growing things, especially kelp (a kind of seaweed). After becoming a kelp-salsa-making party host extraordinaire, she and partner Matt turned their condiment skills into a business with salsas, pickles, seasonings, hot sauce and more.
Alaskan Kelp Bonanza
Kelp is the umami bomb in these (somewhat surprisingly) always-delicious products. My favorite of the bunch is the smoky furikake with kelp flakes and sesame seeds.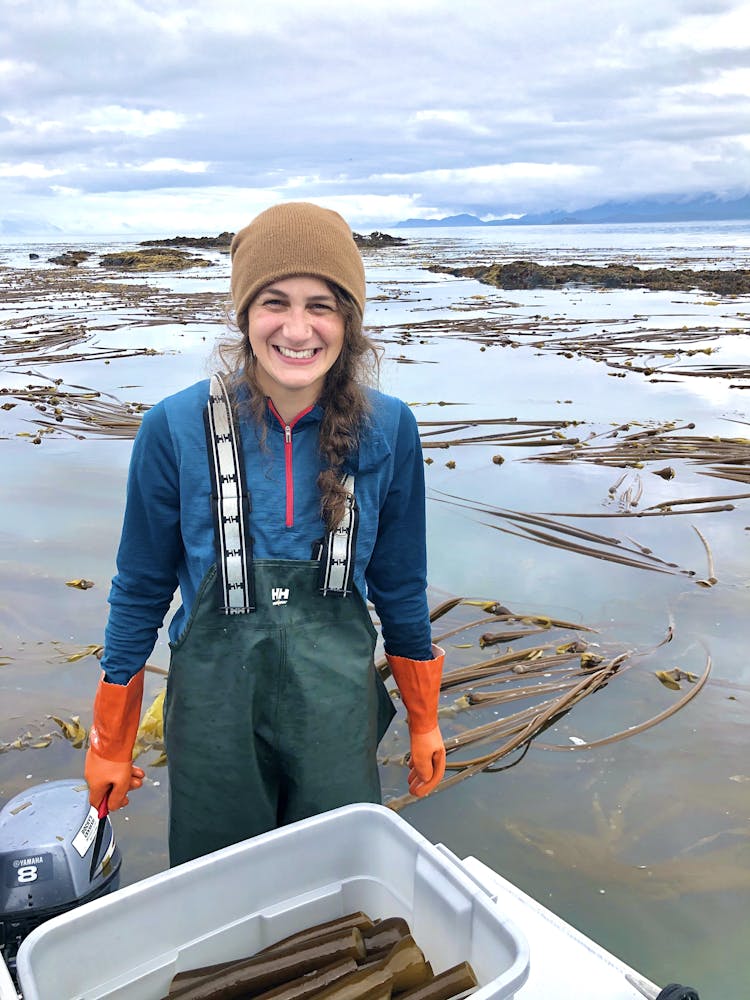 A Conversation With...
Lia Heifetz
When did you first learn about bull kelp?
I grew up in Juneau, Alaska, where the ocean meets the mountains. We spent much of our "free time" harvesting what was in season and preserving it for the months to come. We had wild salmon, all sorts of seafood, mushrooms, berries and deer from the forest.
One of the foods we would collect every year was bull kelp, which is a type of seaweed that is abundant along the coast. Straight out of the ocean, its taste and texture are similar to bell peppers and apples—crunchy and hearty. When we would be en route home from a fishing trip, we'd pull up the boat to a floating bull kelp forest and harvest some pieces to bring back. Bull kelp salsas and pickles are regional delicacies in coastal Alaska, and something that we built our own food traditions around.
What is the inspiration for your kelpy products?
Growing up, it wasn't uncommon for friends' refrigerators to have a jar of home-canned kelp pickles or salsa on the refrigerator door. I was invited to a "kelp salsa making party." Being new to the process of making kelpy foods, I think I was responsible for bringing a six pack of beer and a blender. Someone else showed up with a big tote of fresh bull kelp, someone else with onions, vinegar, tomatoes, and all sorts of other kelp salsa makings. This "party" went on into the wee hours of the morning, all while multiple blenders smoked (working hard) chopping ingredients, big batches were mixed by hand, and one after the other was jarred and pulled from hot water baths. By the end of the night, the counters were filled with jars of kelp salsa, and the house was steamy.
Matt and I eventually became the organizers of these parties. We would experiment with spices and various other ingredients. The kelp really took the show; its deep umami flavor lends itself to all sorts of combos.
Over the years, the size of our home batches of kelp salsa kept growing. We were not only filling our own kitchen cupboards and our garage, but also those of our friends and family. Eventually, the idea of a business came to light. We tested the waters by selling our products at a farmers market in fall 2016, and were very pleasantly surprised that we had sold out by the end of our first day.
That winter we wrote a business plan—and formulated a model that valued people and the planet just as much as the bottom line.
Where do you source the kelp?
To harvest kelp we travel by boat from Juneau—a couple hours or up to a 15+ hour boat ride. The vast Alaska coastline is pristine, wild, and we harvest from areas that have very large and healthy wild kelp beds. Each piece is harvested by hand to ensure that the bed remains intact to seed future years of kelp. In 2020 we were able to source a large portion of the kelp we use in our products from our partners at Sea Grove Kelp Co., which is located near the remote island of Prince of Wales in southeast Alaska.
Did you ever consider giving up?
There have certainly been tough times and a lot of uncertainty along the way. But, like a barnacle, we are rooted in our community—and that has really helped us through.
What was your first entrepreneurial endeavor?
When I was growing up, my neighbors had ducks. I would fill my little red wagon with weeds from around the garden and bring them to my neighbors' house. I had high hopes they would pay for this bounty of weeds (nutritious food for their ducks!). That took some convincing.
Last Word
We harvest and source unique ingredients from small-scale farmers and foragers from the Alaskan coastal rainforest in a responsible, sustainable manner. Kelp requires no freshwater, fertilizers or land to grow. While asking for little in return, kelp provides a solution to buffer the effects of ocean acidification and climate change. It's the future of food! We're here to make it delicious and accessible.
I love when you pop a jar of salsa or open a bottle of kelp hot sauce or sprinkle some kelp seasoning on your food in mid-winter. It transports you back to summer days and harvesting on the water. We like to think of our jars as capsules of summer energy and sunshine.