Main content starts here, tab to start navigating
Jing Gao
Fly by Jing
Don't ask me how Fly by Jing Sichuan Chili Crisp that is oily, and hot and crunchy tastes as good on poached chicken as it does on vanilla ice cream or avocado. I have no idea. I do know that Jing Gao makes magnificent condiments with tremendous care and excellent ingredients in Sichuan, China, and in the process is helping change the narrative that Chinese food lacks subtlety and needs to be cheap to sell.
Uncensored Sichuan Flavors
Jing Gao is creating a pantry of Sichuan mind-blowing condiments and spices. The Sichuan Chili Crisp is so good, eating it off the spoon, fridge door still open, is sometimes unavoidable.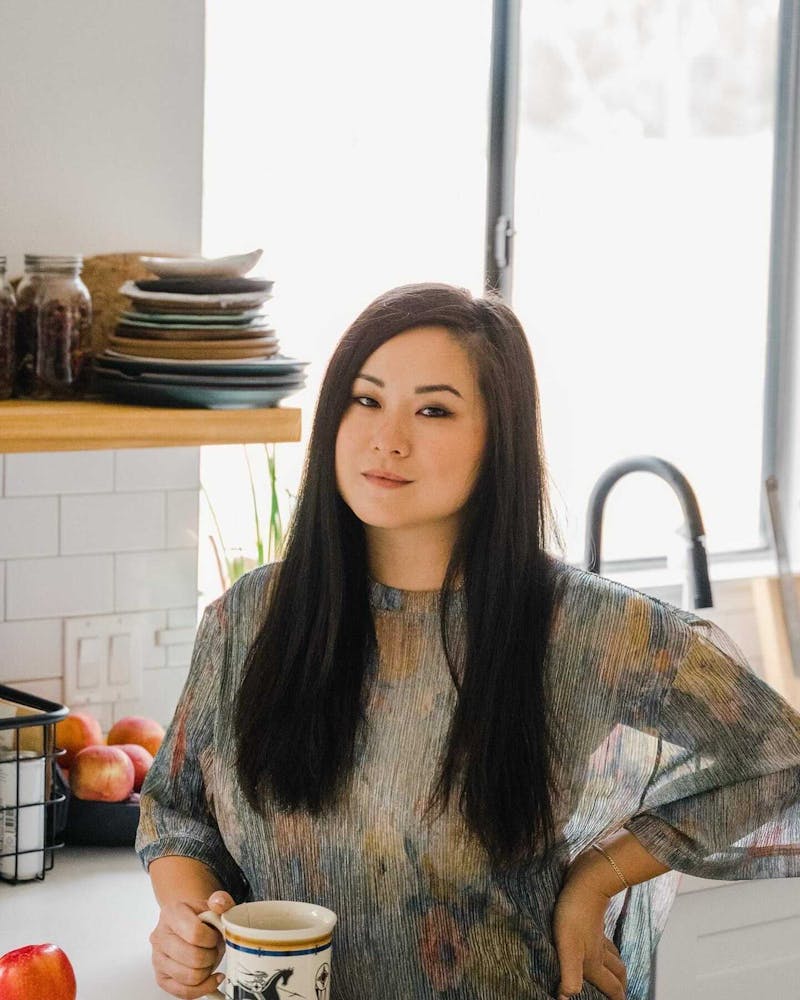 Photo Credit: Sarah Ellefson
A Conversation With...
Jing Gao
When did you come up with the idea for Fly By Jing?
I was born in Chengdu but raised all over the world, and have spent the past ten years in Asia where I founded an award-winning restaurant and an underground pop up dining concept inspired by the popular 'fly restaurants' of Chengdu, hole-in-the-wall eateries so good they're said to attract people like flies.
Fly By Jing, in its current form as a spice and condiment company, really started in a few suitcases. Whenever I went on the road to host a pop up dinner, my bags were packed full of high-quality ingredients that I couldn't get anywhere but China. I understood why —there was little demand from the West stemming from a lack of awareness, and moreover, hundreds of years of bias against the cuisine and its people.
Chinese food ranks on the lowest rungs of what's known as the 'Hierarchy of Taste', society's judgement of a cuisine's value based on the socio-economic status of its people. Manufacturers had no incentive to export high quality products when they were repeatedly told the market wouldn't pay more than basement bottom prices for them.
But whether it was New York, Tokyo or Sydney, people instantly connected to the food. Many were surprised that these nuanced flavors existed in Sichuan cuisine (often caricatured to be intensely spicy and single note) and most had never even heard of some of these ingredients.
In 2018, I traveled to California to attend Expo West, the largest natural food show in the US. I spent days visiting thousands of stalls at the overwhelmingly large show, but could recall just a handful of Asian food brands by the end. Not surprisingly, there was even less diversity among the buyers and retailers walking the halls, arguably the gatekeepers of healthy eating in America. I was shocked that entire groups of people were being left out of healthy eating, and also by the size of the missed opportunity, as this was clearly not representative of what America looks like or how it eats.
When I went back to Shanghai, I knew it was time to upgrade my suitcases packed with ingredients to something bigger. I decided to launch my business in the US with the spices and condiments I was creating in my kitchen and make these flavors more accessible to everyone. I knew it was an uphill battle against centuries of false narratives about Chinese cuisine, but it was worth it if we could take back this narrative, help redefine it and show people just how high quality Chinese food can be.
What was it like getting your condiments produced in Sichuan?
The journey from making chili crisp in my home kitchen to production in rural Sichuan and finally shipping the first jar out was long and full of challenges. I learned that the only way to get the results I wanted was to boldly advocate for myself. The sauces we sell now are even better than the original that I cooked it up in my kitchen two years ago, and that makes it all worth it.
When was the first time you remember tasting the Sichuan Chili Crisp that has become one of your signatures?
In my kitchen in Shanghai, I had just finished blending a batch of chili oil in my food processor. I instantly thought of packaging it, but felt daunted by the unthinkable task of manufacturing and building an entire company around the product. Incredibly, that was just three years ago, and today, our sauces are shipped to over 50,000 customers in every state in the US.
Did you ever consider giving up?
I've been told no probably a thousand times in this process. Every time I went back to square one, I found that there was another and better way.
What was your first entrepreneurial endeavor?
I created the first modern Chinese fast-casual restaurant in Shanghai focused on transparent and sustainable sourcing and won many local and international awards. As much as it was a 'successful' business, I learned painful lessons, including the dangers of picking the wrong partners, all of which were invaluable to building Fly By Jing.
Who is your angel?
The Chinese believe that time isn't linear but folds onto itself. Our present, future and past selves all exist at once in the space time continuum. The last several years have been a journey to find my way back to self after more than two decades lived by others' expectations. It's been beautiful, in this process, to draw strength from the wisdom of my future self. It's comforting to know that no matter how tough the road gets, I'm protected and supported.
Last Word
What started as my quest to reconnect with my roots has become a mission to celebrate the many-layered stories of the diaspora. In my search for self, I've recently embraced my birth name Jing, after more than 25 years of hiding behind 'Jenny', a name I adopted as a child growing up in Europe to feel seen and belong. Mine is a deeply personal story of breaking free from tradition and writing new narratives. I hope that others will see a piece of themselves in it, that something as simple as a name and a jar of chili sauce can be a radical reclamation of personal power.