Main content starts here, tab to start navigating
Azalina Eusope
Azalina's
At 16, Azalina Eusope slipped away from Penang, Malaysia, to find her potential. As a fifth generation Mamak street vendor, her options at home were limited. Twenty-five years later, Azalina has opened restaurants in San Francisco, and now sells peanut sauce and coconut jam, all of which connect with her childhood memories.
Mamak Malaysian Street Food
Azalina's peanut sauce and coconut jam have the intensity of five generations having honed the recipes to ultimate deliciousness.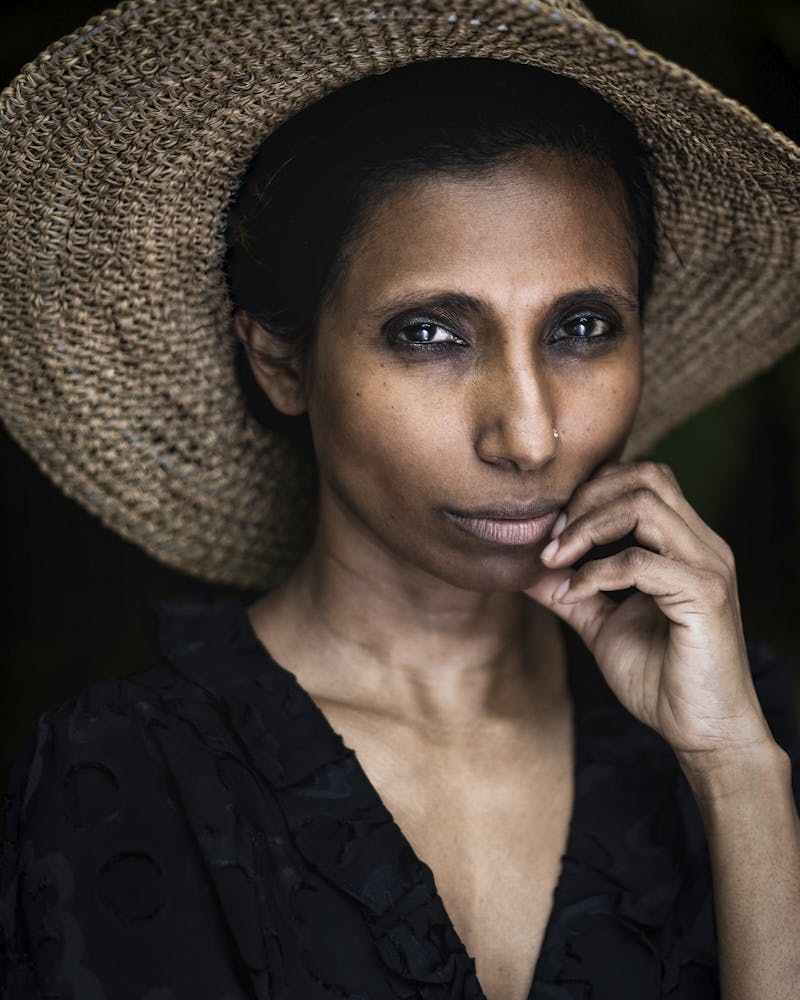 A Conversation With...
Azalina Eusope
I interviewed Azalina for this project, and this is a much-condensed version of our conversation.


A little about Azalina before we begin:
Azalina Eusope is a fifth-generation street food vendor from Penang, Malaysia. When she moved to San Francisco almost 18 years ago, she spoke little English and sought comfort for herself and her young children through the foods she had grown up eating in the Mamak community. Using many of the flavors and recipes from the Mamak tradition, which takes from Chinese, Indian and Malay cuisines, she sold her food at farmers markets, then as a caterer, next in her restaurant, Mahila, and now also in spectacular sauces and jams that can be ordered from her website.
Cooking is in my DNA
I'm a fifth-generation street-food vendor, and I still have family today cooking in the streets of Penang, Malaysia. We have great memories but we went through so much hardship for being Mamak.
Mamak identity
In Malaysia, your birth certificate says which community you come from. That's your identity to the end of your life. When I was growing up, most of Mamak people either worked in a factory or worked in domestic labor jobs and couldn't really go forward. It didn't matter if you do well at school--there's no point trying to advance yourself; some do but they have the right connections and network and these are mostly 'light skin Mamak'. Racism and colorism go hand together. I told myself that I would never figure out my full potential if I allowed my race and my skin color to dictate my future in my beloved country, so I left. I lived in Australia, Hong Kong, Tokyo, Thailand, Vietnam, Fiji. I gained experience as a cook. Funny enough, that's the only profession that I could get because I didn't go to college or advance my education eventhough I had one of the highest SPM (equivalent to SAT score in Malaysia). I now have an MBA in business from Haas Business School at UC Berkeley.
Mamak are so tight knit because we need to help each other. You have all this support from all your family members and your community. If you Google, all you'll find is we Mamak are well known for food and roughness with no history or stories to represent us. That makes me really upset.
Mamak, spices and life stages
Our spices play a big part in our lives. Spices are not only used for cooking; spices give us the pillars to hold onto to get through our lives. It gives us hope when there is none and it gives us contentment when we need it. We created three stages of life.
The first stage is the year after you're born. The baby crawls to the spices and chooses one spice, which helps guide this human until they reach puberty. If you have a weak spice, you have to do additional work to not become a weak person.
The second Mamak stage is when women hit between the age of 30 to 40 years old. It's called Mahila. It means 'becoming a woman'. This is when women really take the role of a leader of her unit or family.
The last stage of life is when the elders in your family will give you their most prized possession. It could be a tire, it could be a piece of nail, it could be anything. But that's what you carry, because you're carrying this wisdom and knowledge that you need to pass on to the next generations.
Start in California
When I moved to California 18 years ago, I was not able to really speak English and that makes it very difficult. At the farmers market, I was making savory crepe and chicken curry and Chai banana fritters and nobody came. They didn't know what the hell it was! Plus, I never got the memo that no one eats chicken curry in the morning here. We were selling the banana fritters because it's almost like a donut.
I would put my kids in the car, go to a shared kitchen space, prep while they slept in the car, 2:30 in the morning. Then at the market until 2pm. I worked 20, 21 hours a day. We were not making money and I had two kids and I was feeling really bad. But then Andrew Knowlton from Bon Appetit had a segment about best brunches in America and he mentioned us. People started to know us and we became part of this street-food project. Slowly I built my commissary—it's 20,000 square feet. There are 100 different variations of micros and herbs that we grow that nobody else has. From that I had the restaurant—and all of a sudden Covid hit….COVID-19 really put me in a tight position; I had to choose between saving my business or the employees that I had (70 total pre-COVID and now down to four). But we are still here fighting everyday to overcome it.
Mamak eat mindfully
Mamak practice mindful eating because we eat so many times in the day. The first meal we eat is at 4.30 in the morning and we continue eating until it's time to go to sleep. Each time that we are eating, we train our brain to stop consuming before we get full. Humans can't function when all blood circulation goes to our digestive system. Eating a variety different things in a smaller quantity throughout the day give us necessary nourishment while enjoying life the same time. Eating together is a main thing in my community. I can't eat so often anymore—my body's not used to it. But yeah, we EAT a lot!!
Coconut Jam
Mamak makes our coconut jam lighter than other communities. We use way less egg and sugar and more coconut milk. At Azalina's, we do not use canned coconut milk; we use freshly-squeezed coconut milk. Our classic Kaya (a true Mamak spread) is more like a coconut caramel and we steep it with ginger for a bit and we eat it with butter on an 'unsweetened' soft yeasty bread.
Peanut Sauce—The Original Recipe
My peanut sauce is made using herbs and spices. There are also roasted coconut and lemongrass as main ingredients. Our peanut sauce has no acid as we rely on technique to extract acidity from the herbs themselves. One of my great memories of my grandmother is watching her pounding peanuts on this huge mortar and pestle. The pestle is made out of concrete. We had the privilege raising a stray orangutan, Madu. Madu helped my grandmother with the pounding because we needed an additional person to assist her when everyone else is busy. She didn't do this all day long obviously because Madu is a bit of a diva , however she's a serious chain smoker. Her love for cigarettes is quite sad and fascinating at the same time. My grandmother sells her peanut sauce, alongside her unique take on Nasi Lemak, from village to village. Azalina's peanut sauce very much represent her grit.