Main content starts here, tab to start navigating
Farrah Moussallati Sibai
Afia Foods
War, loss, abuse, death, illness, dislocation and a black book of recipes carried from Syria to Austin, Texas. Those are the unlikely foundations of Farrah Moussallati Sibai's Afia Foods. Taking her mother-in-laws recipes, Farrah now makes falafel and kibbeh for the frozen food aisle.
Mediterranean Frozen in Time
Brushed with olive oil and popped in the oven, these falafel are little discs with big flavors. They don't shy away from spice, and have a satisfying texture. Only real ingredients, no filler.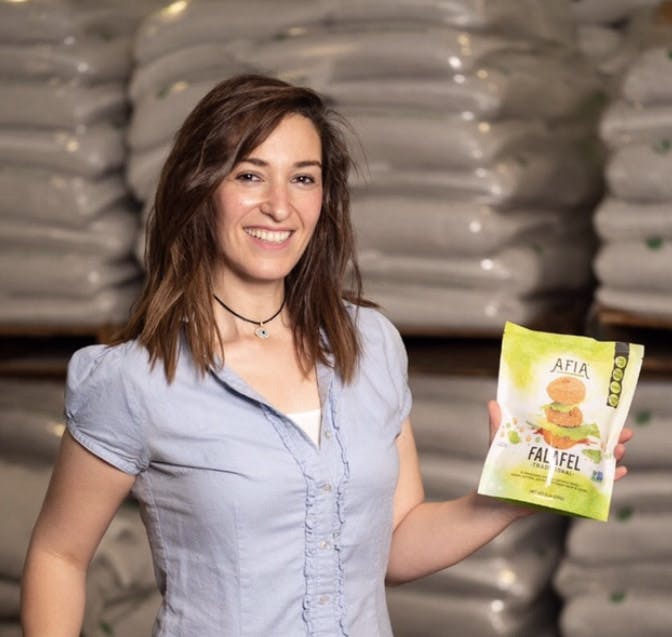 A Conversation With...
Farrah Moussallati Sibai
What is the story behind Afia foods?
Change is inevitable. Sometimes change can be good, and sometimes it can be bad. My change happened in 2009 when my life took a turn for the worse. In the span of one year, I lost everything my heart desired. I survived an abusive relationship, my youngest daughter Lu-Jaine passed, my middle daughter Serene was diagnosed with a life-changing kidney disease, I was deprived of my eldest daughter Lana, the war broke out in Syria and we lost every material possession my father had left for us before he passed.
I was at rock bottom.
Living in the UK at the time, I spent the majority of my days in the hospital with Serene, while still working to keep a roof over our heads.
I met and married Yassin, who has three daughters, and together Serene and I moved to Austin, Texas, in 2012 to combine our families. When I arrived in Austin, I continued to volunteer to help refugees adapting to life in the US, but I was always looking to help refugees or struggling individuals even more, and to prove to myself, to my daughters, and to women out there that nothing is impossible. Life is tough, but we are strong enough to face it and can stand on our feet again.
My mother-in-law fled the war in Syria and came to live with us in Texas. She, like the refugees I was helping, also struggled with the transition to life in a new country. She missed her way of living, family, friends and belongings; she missed home. With literally hours to pack her life in a bag before the borders closed, she brought a few of her most sentimental and personal belongings. One of those items was a black book filled with recipes handed down from generation to generation in her family.
When she arrived in Austin, she lived with us. The times when she would find comfort and feel truly at home were when she would revisit her black recipe book and cook us the most authentic, traditional meals.
My husband Yassin and I had the idea for Afia in 2016, when we realized there wasn't any Mediterranean/Middle Eastern food in the freezer section, even though the cuisines are the fastest growing in the country. We started selling our food at one farmers market in Austin in 2017, launched at H-E-B in 2019, and then at Walmart in 2020.
Where do you create the falafel and kibbeh?
At first we made all the falafel by hand and had one machine for the kibbeh. We've grown so much that by summer 2021 we will be moving into our new 30,000 square foot fully-automated facility. We source all of our ingredients from the US, and my mother-in-law comes to our food prep facility to make sure the product lives up to her standards and is as it should be.
Do you remember when you first ate falafel and kibbeh?
Falafel and kibbeh were staples growing up—I was so young when I first had them that I can't recall the first experience! I can share though, that while growing up, kibbeh was served at every special occasion, wedding, party and large gathering. Anyone who knows kibbeh loves it, but most will not make it, since it is so strenuous and time-consuming. Falafel, on the other hand, was eaten at least two to three times a week, at all times of the day—for breakfast, lunch, dinner, snacks—while I was living in Syria.
Did you ever consider giving up?
In my life, I've learned a thing or two about resilience, and some of those tough life lessons have helped prepare me for life as an entrepreneur. I'm also grateful to my mother, who was widowed at the age of 35 with six children, for teaching me patience and perseverance and being my role model in overcoming adversity.
What was your first entrepreneurial endeavor?
When I was 15, I got my bellybutton pierced; at the time it was a huge trend. My friends and I would go to the mall, and while we each dreamed about having a collection of rings, the cost of $45 to $50 per ring just wasn't within reach.
At the same time, eBay was also a huge deal, and when I saw some rings selling on there for less than half the price I was seeing at the mall, I looked into how this worked.
Eventually, I set up my own shop on eBay, ordered thousands of rings from China, and started selling them on eBay. For the next two years, that business expanded from rings to bags to purses to jewelry. My eBay business was earning me $2,000 per month in profits—fun times especially for a 17 year old!
What is your WHY?
If life has taught me anything, it's taught me to not ask why, but rather "Why not?"